Go back to news
Re-Opening Concordia
Posted on: May 25, 2020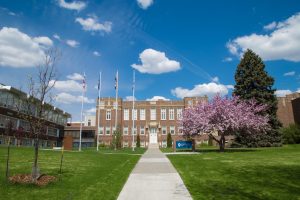 Planning for the Upcoming Fall Semester
In March 2020, Concordia University of Edmonton made a rapid transition to virtual learning to protect the health of our students, faculty, staff, and community as a result of the COVID-19 pandemic. Since that initial transition, we have been preparing for the upcoming fall semester and planning to deliver high quality learning experiences while following all public health guidelines and recommendations. As we look ahead to September, we remain committed to taking the actions necessary to prevent the further spread of COVID-19.
Here's what you need to know:
Our upcoming fall semester will be predominately virtual, with limited exceptions for classes and programs that require in-person interaction and extensive experiential learning. We appreciate your patience as we work to finalize the list of courses that will be available in-person, on-campus in September.
We take the health and wellbeing of our community seriously. In addition to asking any person showing symptoms of COVID-19 to leave campus immediately, we are implementing protocols aligned with public health regulations and recommendations. These include: enforcing physical distancing; requiring the use of non-medical masks where physical distancing is not possible; limiting the number of students, faculty, and staff on campus; encouraging safe forms of social interaction; and enhancing campus sanitization practices.
While some campus facilities will be open with restricted hours, others, including residences, will remain closed. Any student who needs to physically be in Edmonton in September and requires assistance finding appropriate accommodations is encouraged to contact our Residence Life team.
Our faculty and staff are committed to the success of our students, and are working to ensure students have access to the same high-quality classes, programs, and services they have come to expect from CUE.
We appreciate your continued patience as we work through the complex challenges created by the COVID-19 pandemic. We are looking forward to a successful semester and hope to welcome back all of our students to campus in January 2021.
Tim Loreman, PhD
President and Vice-Chancellor