Go back to news
RBC Changemaker Challenge
Posted on: Oct 16, 2019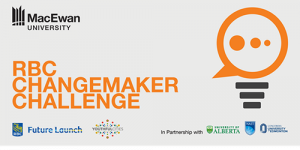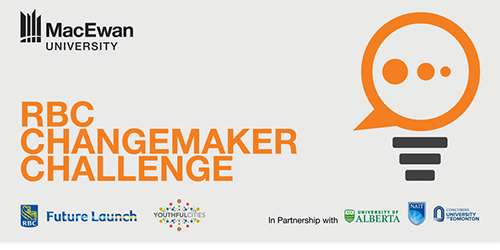 Concordia University of Edmonton is proud to partner with U of A, NAIT and MacEwan University in bringing the RBC Changemaker Challenge to Edmonton!
Overview
The RBC Changemaker Challenge is a fast-paced and high-energy event where you'll work with other post-secondary students and alumni to generate ideas to make Edmonton the best place for youth to work and live! Teams will work with one another and community leaders to come up with ideas and solutions that respond to the 2019 Youthful Cities Urban Work Index Report.
Objectives
The challenge statement: "How might we develop solutions that can help make Edmonton a better city for youth to work in." The objectives of the event include:
Engaging students in applying their experience and skills towards creating social impact.
Inviting students and RBC/community leaders to join prototype teams to continue work on an idea generated at this event.
Partner with the Youthful Cities 2019 Urban Work Index.
Who can participate?
Students and alumni from four partnering Edmonton post-secondary institutions are invited to participate. You are invited to register if you are a student or alumni at:
Concordia University of Edmonton
MacEwan University
NAIT
University of Alberta
Participants will be placed into teams of 3 or 4 randomly based on area of interest: Affordability, Education, Employment, Entrepreneurship
Event Details
Date/Time: October 18 from 9am-6:30pm
Agenda: 
8 a.m. – Breakfast and networking
9 a.m. to 3:30 p.m. – Work in interdisciplinary teams to identify and develop ideas to make Edmonton the best place for young people to live and work. You will think deeply about the future of work and the needs and aspirations of young people today. Gather input and expertise from community leaders in the private, non-profit, and academic sectors throughout the day.
12 p.m. to 1 p.m. – Lunch provided
3:30 p.m. to 5:30 p.m. – Prepare and pitch your idea to a panel of experts. Top ideas can receive a cash award!
Advisors and Judges: Each team will get to meet with an advisor to run their idea past them. Judges from RBC and community leaders will also be there.
Registration Fee: $10 cost to register. 
Prizes: 2 prizes of $500 in startup capital