Go back to news
President Loreman's Wednesday Update – Convocation edition. Feb 24, 2021
Posted on: Feb 24, 2021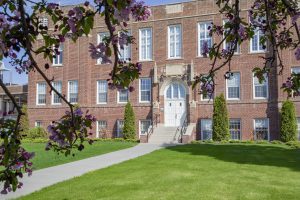 Dear CUE Community,
I have some VERY EXCITING news to share regarding Convocation.
Last year, we postponed our convocation ceremony with the hope that we would be able to gather safely and celebrate together in 2021. That decision was made at the height of the first wave of the ongoing pandemic and, since then, we have learned to adapt while taking precautions and measures to prevent the further spread of COVID-19.
Most universities have decided to hold convocation ceremonies virtually, but CUE is not like most universities! Our students have told us they want an in-person event to mark this important occasion in their lives, and a chance to share it with friends, family, faculty, and our CUE community. We have, therefore, been working closely with public health officials to determine how we can host an in-person convocation ceremony this spring for our Class of 2020 and Class of 2021.
While our celebrations are going to look and feel very different this year, we are doing everything we can to host an in-person ceremony while protecting the health and safety of our graduates, their loved ones, and our employees. We have come up with a really, really, cool solution that keeps everyone safe while also providing a special in-person convocation experience.
Right now, we are planning five drive-in ceremonies between May 28 and May 30, 2021, with approximately 200 graduates being celebrated at each ceremony. The ceremonies will be held outdoors in the Edmonton EXPO Centre parking lot, and strict COVID-19 protocols will be in place. The ceremonies will be livestreamed and we are putting a plan in place to ensure that students who are unable to attend their ceremony are still able to participate in the festivities.
Our plans, of course, are subject to change pending government restrictions, and other health and safety considerations. More information can be found on our website. Understandably, the planning process is complex, and we'd ask for your patience as we continue to work out the details. We look forward to sharing more details in the near future.
Stay home, stay safe, and stay healthy,
Best,
Tim Loreman, PhD.
President and Vice Chancellor.