Go back to news
President Loreman's report to GFC, August 24, 2021.
Posted on: Aug 24, 2021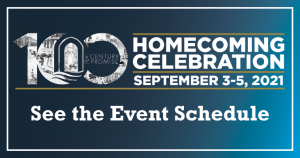 CUE 100 Homecoming weekend
Please remember to purchase your tickets to the CUE 100 banquet that is happening as part of our Homecoming Weekend that runs between September 3-5. This will be the signature event of our 100th anniversary and we look forward to seeing you there. More details can be found at https://concordia.ab.ca/cue100/
Magrath Mansion
Last Wednesday we announced that CUE has acquired the historic Magrath Mansion just a stone's throw away from our main campus in the heart of the Highlands neighbourhood from the Braaksma Family. Valued at $3.175 million, the property covers five municipal city lots. While real estate donations are common at other post-secondary universities, this is the largest individual gift ($1.425 million) that CUE has received to date. As the new owners, CUE is committed to maintaining and caring for the property, which will serve as community gathering space and venue for events, fundraisers, conferences, seminars, and student-centred programming. Our announcement received significant media coverage.
Fall return
Planning for our fall return has been challenging, as it seems like almost daily the landscape shifts and covid cases continue to rise in Alberta. As of now we have decided that the best course of action for CUE to undertake is to mandate the wearing of masks in indoor public spaces and encourage our community to get vaccinated. As outlined in my statement last week it is impractical at this point in time to implement a policy of mandatory vaccinations and/or rapid testing at CUE. We need to work together, follow the science, and exercise courtesy and common-sense. If you have not yet read the full plan it is available here: https://concordia.ab.ca/fall2021/
National day for truth and reconciliation Sept. 30
The National Day for Truth and Reconciliation on September 30 is a public holiday for Federal employees, but it has not been declared a public holiday in Alberta. The purpose of this day is for Canada to reflect on our journey towards reconciliation, with emphasis this year on the terrible legacy of Residential Schools and they ways in which they continue to impact our lives today. Concordia's administration discussed the best way of facilitating this reflection for our students and employees, and after evaluating various options we have decided to cancel classes and offer all non-essential employees a day off on September 30, should they so choose. However, we hope that our community doesn't treat this as just another day off. The IKRC will be providing information on events that our community can participate in on the day, and we encourage that participation and reflection.
Convocation 2020 and 2021:
Convocation 2020 and 2021 were massive successes. Despite having tested the patience of our students through postponements over the past 18 months, the eventual experience was worth the wait. In one of the few face-to-face ceremonies, our students were able to walk across the stage and have their accomplishments recognized by family, friends, staff, and faculty. It was truly a celebratory weekend.
International update:
The International Office is currently working to support international students who are travelling to Canada to begin their studies in the Fall semester. We have the highest number of students entering in August than in any other month since Canada reopened its borders to international students. The IO prepares entry packages for students with supporting documentation they need to present at the border, delivers entry sessions that outline the processes for entering and current travel restrictions etc., and checks in with students who are in quarantine. 
This Fall 2021 semester CUE will again welcome exchange students from our partner universities including Emerging Leaders of the Americas (ELAP) students. These students will be with us for one semester or two. We hope to see Outbound Mobility activities pick up again and look forward to supporting students in studying or interning abroad.
Our centre for Chinese Studies ran the Chinese Teachers' Summer Seminar again this year on July 10. Fifty Chinese teachers from across Canada and China participated. This year it was held as a panel discussion in collaboration with professors from the UBC, KPU, U of C, U of Regina, U of T, Concordia University (in Montreal), McGill Univ, and Laval Univ. The CCS will also welcome a new Chinese visiting teacher to work full time at CUE from Sept 2021 to August 2023, sponsored by CLEC (Centre for Language Education and Cooperation).