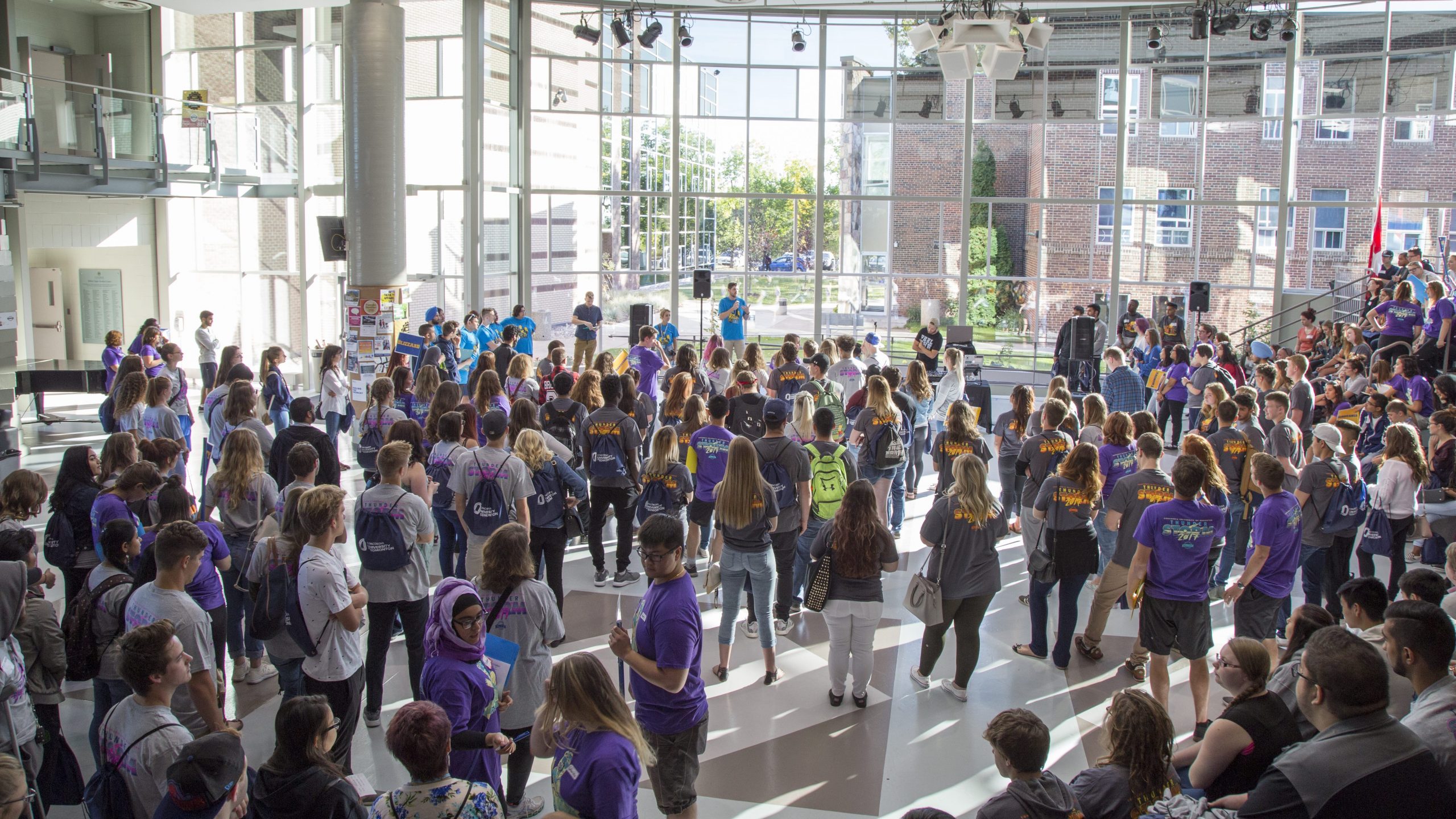 Bringing Our Community Back Together
Concordia University of Edmonton (CUE) is preparing to return to campus for the Fall 2021 semester. In March 2020, we transitioned to virtual learning in order to protect the health and safety of our community. Since then, we have been offering mostly virtual learning experiences, with few exceptions being made for courses requiring in-person interaction and extensive experiential learning.
On September 15, 2021, the Government of Alberta declared a state of public health emergency and introduced a number of restrictions to protect the health care system, stop the spread of COVID-19, and increase vaccination rates. Following the government's announcement, CUE has decided to implement the Restriction Exemption Program (detailed here) in order to protect the health of our community and return to in-person learning.
Our Approach
Throughout the COVID-19 pandemic, our priority has been protecting the health and safety of our students, faculty, staff, and community. We have strictly followed the guidance of Alberta Health Services and the restrictions put in place by the Government of Alberta, and we will continue to do so moving forward.
The following principles will guide our approach:
Putting people and safety first.
The health and safety of our community continues to be our top priority. Although vaccinations will mitigate the effects of COVID-19, it is expected that the virus will continue to be present and will need to be managed on an ongoing basis. As such, certain controls and measures may still be required to maintain a safe and healthy learning, living, and working environment. We will continue to follow the guidance provided by Alberta Health Services and will adapt, as required.


Supporting student learning and research.
As a post-secondary institution, our mission is centred around student learning and research. Above all other campus activities and functions, we will prioritize teaching and research.


Recognizing the value of our employees.
Our faculty, instructors, and staff are our most valuable resources, and are essential in supporting our mission and vision, and providing high-quality learning experiences to our students.


Introducing flexibility.
Our approach has historically been solely focused on in-person courses and interactions; however, as we emerge from the COVID-19 pandemic, we recognize and understand that a shift has occurred, and we need to respond accordingly to meet the needs and expectations of our students and employees.


Taking a holistic approach.
Planning for educational activities should encompass all aspects of the educational experience including learning within classrooms, lecture theaters, laboratories, workshops, performances, practicums, research settings, study spaces, and travel abroad/exchange programs where possible.


Prioritizing student services.
Services and supports are an integral component of the student experience. Depending on the student and their particular needs, the type of services, supports, and student accommodations required will vary.


Communicating regularly.
We recognize that we are entering a period of change, and we are committed to ongoing and timely communication to ensure a successful return to campus.
Our Plan
Our Return to Campus Plan can be downloaded here. The plan includes important information for our students, faculty, and staff, as well as details on how we will proceed with academic and applied research activities this fall.
Please note that effective Monday August 23, 2021, CUE is reintroducing an indoor mask mandate on campus. Students, faculty, staff, and visitors will be required to wear non-medical face masks in all indoor public areas including hallways, washrooms, gathering spaces (such as Tegler), and the library. Masks do not need to be worn in private offices and can be removed when teaching; however, instructors should take care to maintain a safe distance from students.
While the majority of our students and faculty members will be returning to campus in late August, many staff members will continue to work from home. Additionally, we are piloting flexible delivery this fall with a number of blended courses being offered to students.
It should be noted that the success of our plan, as well as the Government of Alberta's plan, relies on people choosing to get vaccinated against COVID-19. Over the summer, we announced that vaccines would be mandatory for students living in residence, participating in athletics, and participating in non-academic programs. On September 16, 2021, we announced that all members of the CUE community must be fully vaccinated by October 25, 2021, in order to attend campus. Be part of the solution. Get vaccinated against COVID-19.
Frequently Asked Questions
Will all students be returning to campus this fall?
We are planning for a full return to campus this fall; however, some graduate programs (MISAM, MISSM, MScIT) will remain online until January 2022. In addition to our in-person learning experiences, we will be introducing a number of flexible delivery courses.
Will student residences be open?
Yes. We are planning to operate our student residences at full capacity this fall. Students will need to be vaccinated against COVID-19 to be eligible to live on campus.
Are vaccines mandatory?
Yes. Beginning October 4, 2021, CUE will require proof of vaccination (at least one dose); proof of a negative PCR or rapid test if the first vaccine dose was taken less than two weeks prior to October 4; or, documentation of an exemption based on medical or other protected grounds outlined in the Alberta Human Rights Act, in order to attend campus. After October 25, 2021, members of the CUE community who cannot establish that they have had two doses of approved vaccine, or who have not received an exemption based on a valid medical or human rights-based accommodation, will not be permitted to attend campus.
I am not comfortable returning to campus at this time. What can I do?
While we will be introducing a number of flexible delivery courses, it is anticipated that these courses are only partially online. Students will be expected to be back on campus to take their programs of study. Please be assured that in addition to encouraging everyone in our community to be vaccinated against COVID-19, we will be implementing an enhanced cleaning schedule and following all public health recommendations and requirements. Although nothing is ever risk-free, the net effect of these combined actions should provide for a safe return to campus.
I am an international student. Can I come to Canada?
We are looking forward to welcoming international and exchange students to CUE this fall; however, it is important to note that there are currently travel restrictions in place that are costly to students. While we will do our best to prepare students for entry into Canada, the decision on whether they can or cannot enter is solely at the discretion of the Canada Border Services Agency. For more information, please contact our International Office.
What are the current restrictions for international students?
CUE is a designated learning institution, meaning we have an approved COVID-19 readiness plan in place and are eligible to welcome international students. However, the Government of Canada has a number of restrictions in place, including flight suspensions and quarantine requirements, impacting international students. Any student planning to enter Canada must notify the International Office four (4) weeks before their travel date to receive assistance. Students should not try to enter Canada without first contacting the International Office.