Go back to news
President Loreman visits Brazil
Posted on: Apr 26, 2019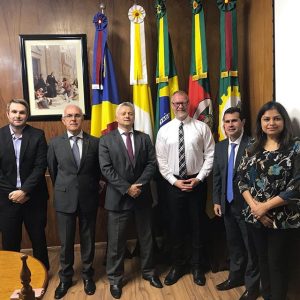 President Tim Loreman has been visiting CUE partner universities over the last couple of weeks on a whirlwind tour of Brazil.
Over the past seven years, CUE has built some amazing partnerships in Brazil.  President Loreman's tour aims to strengthen these relationships further.  As a result, discussions will cover topics such as ongoing program cooperation, mobility between our universities, research cooperation, and cultural exchanges.
He began the tour by attending the FAUBAI 2019 Conference in Belem, Northern Brazil.  Here he met and presented with our partners Unilasalle, UNIVATES, and UNISC.  He also had an initial meeting with University of San Paulo (USP), another partner university.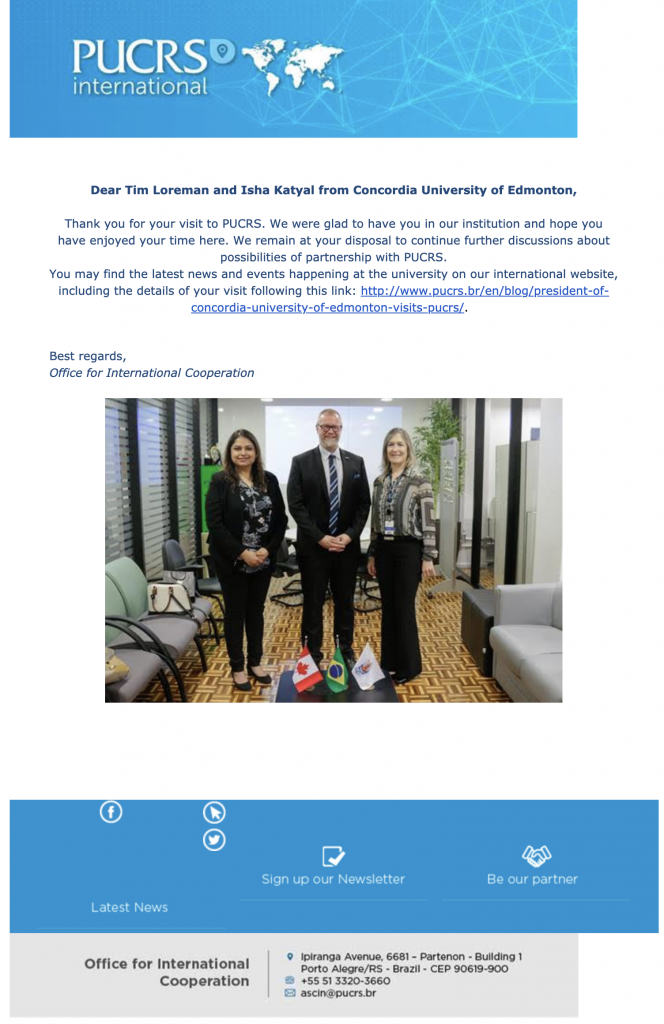 An evening catching up with CUE alumni in Porto Alegre, in South Brazil, was an enjoyable event, with some of them travelling a considerable distance. President Loreman loves catching up with CUE students!
In his second week, President Loreman was joined by CUE's CIAR manager, Dr. Isha Katyal.  So far, they have visited PUCRS, UniLasalle, Feevale, Univates, and UNISC. Their discussions have focused on international industry connection and business acceleration. Now, President Loreman has one visit to go: USP campus of Ribeirão Preto, before returning to Canada. Dr. Katyal will visit the Federation of Industries of Rio Grande do Sul (FIERGS) on Monday.
So far, reviews of the tour have been great! Our partners have appreciated the visit.
President Loreman has posted daily updates on his social media.  You can see photographs from his trip on his Twitter or Instagram feeds.