Go back to news
Perspectives On Women Entrepreneurship – A Panel Discussion
Posted on: Oct 14, 2021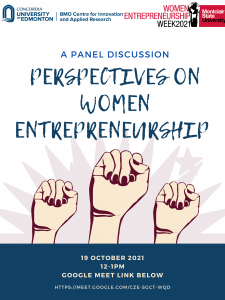 Overview: Women Entrepreneurship Week (WEW) began as an idea in a cubicle at Montclair State in the spring of 2014. The first WEW events were held in 2014, when four North Jersey universities participated. Since then, WEW has grown into an international celebration.
A big art of entrepreneurship is much more than simply having an idea, with 90% of the work in implementation. This week nurtures, inspires and energizes female founders around the world by offering inspiration and practical advice from female founders.
This year BMO-CIAR is partnering with the Feliciano Center for Entrepreneurship & Innovation, Montclair State University to celebrate CUE women innovators to host a panel discussion on the topic of "Perspective On Women Entrepreneurship". This panel will feature CUE women innovators who will share their stories of struggles, wins, and obstacles as they build their businesses and innovations.
Date: 19 Oct 2021
Time: 12-1 pm 
Moderator: Kathleen Norman, Executive in Residence for CUE, Innovate Edmonton
Panelists:
Dr. Cecilia Bukutu, Associate Professor and Director, Department of Public Health, Faculty of Science

Dr, Carmen Arth,  Assistant Professor, Department of Psychology

Dr.

Elizabeth Coker-Farrell

, Assistant Professor, Faculty of Management

Navleen Kaur, Bachelor of Management, 3rd yr student
Venue: Virtual (Google meet)
Register Here
Agenda:
12-12:15pm: Introduction to the session, moderators and panelists

12:15-12:50pm: Discussion on topics such as (10 minutes per topic):
women entrepreneur traits

barriers to women entrepreneurs
power of building a network
"wellprenuer" (maintaining entrepreneur wellness and achieving work/life balance)
12:50-1pm: Q&A and event reflections
Contact
Please email Dr. Isha Katyal, Director, Innovation and Industry with any questions at isha.katyal@concordia.ab.ca.
Release Consent
Please note that the session will be recorded and posted on the BMO-CIAR website. By attending this event, you hereby consent and authorize the Concordia University of Edmonton to use your testimonials/comments and any photographs, video, or audio recordings taken of you for internal and external newsletters; news releases; journalist requests; and Concordia University of Edmonton promotional materials, including the World Wide Web, printed documents, audiotapes, videotapes, CD-ROMs, posters and in any and all other media, whether now known or hereafter existing, controlled by the Concordia University of Edmonton. You will make no monetary or other claims against the Concordia University of Edmonton for the use of the above-mentioned media.