Go back to news
Cleantech Energy Innovation – Creative Solution Development for the Energy Transition
Posted on: Oct 14, 2021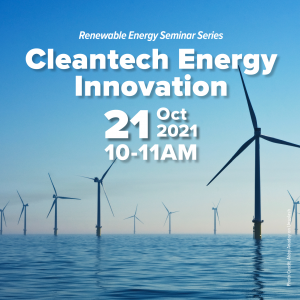 This presentation is a part of the Renewable Energy Seminar Series, with experts ranging from industry, academia, and government.
This interactive presentation will pose a number of questions intent on unpacking the challenges and opportunities associated with advancing innovative cleantech solutions and the implications of climate change. The presentation will discuss the path from technology to commercialized products that address industry challenges and build a thriving economy in a post COVID low carbon world. It will cover:
What is cleantech anyway?

How is building the business case for cleantech different from a conventional approach to market?

Case study examples that demonstrate how the innovation ecosystem, business novelty and creative funding models build successful companies in Alberta.

What are the global trends and emerging drivers that indicate cleantech is a globally significant phenomenon that creates wealth and supports sustainability?
When: Thursday, October 21, 10:00 am – 11:00 am
Register Here
Speaker Information
Jeff Reading; Executive in Residence, Foresight Cleantech Accelerator Centre
Jeff has more than 35 years' experience in putting companies into global markets that focus on cleantech, energy innovation, energy efficiency along with climate change mitigation and adaptation solutions. He has a particular interest in working with early stage ideas and coaching, mentoring and adapting leadership towards company creation and scaling, company development (i.e. shareholder agreements and registration), Founders Team structuring, definition of first customer, key partnerships/relationship development, value proposition and differentiation clarity, viable multi-sided business models, customer relationships, commercialization channels, key resource definition, investor package and proforma development, IP and data strategies, innovation ecosystem connections, funding ecosystem connections, revenue stream clarity, cost structure clarity, industry relations, and tactics for staying focused and on point.
Primarily the focus has been on sectors that include utility innovation (renewables, microgrids, data analytics, platform orchestration, automation, smart/intelligent technologies, blockchain, high performance buildings and energy storage), electrification of transportation, multi-sector low carbon cleantech, along with carbon capture and conversion technologies.
Stephen Wilson; VP Acceleration, Foresight Cleantech Accelerator Centre
Stephen is experienced in sales, business development, and operations. Always looking to add a positive contribution to all stakeholders, Stephen brings high-level thinking and a broad base of experience. Stephen graduated from the Sauder School of Business with a Bachelor in Commerce. Starting his career at an event marketing company, he moved into fashion before finding his passion for electronics. Having worked with startups in the LED lighting space to a global company in power conversion, Stephen has worked in teams both small and large to raise financing, launching products, driving volume and delivering on complex custom sales.
Stephen is responsible for delivering the value of our flagship accelerator programs, and EIR and mentor networks to the cleantech ventures Foresight supports.
About the Speaker Series
McNeil Centre for Applied Renewable Energy (McNeil C.A.R.E) and the Concordia Alumni Association are proud to present the Renewable Energy Speaker Series. This speaker series aims to provide CUE members (students, alumni, staff and faculty) and the community in general with the opportunity to explore renewable energy solutions, learn about the challenges faced by the sustainable energy sector (industry, government and society), careers in the renewable energy sector and interact with experts from across Canada and beyond.
Contact
Please email Dr. Isha Katyal, Director, Innovation and Industry with any questions at isha.katyal@concordia.ab.ca.
Release Consent
Please note that the session will be recorded and posted on the BMO-CIAR website. By signing up for the event, you hereby consent and authorize the Concordia University of Edmonton to use your testimonials/comments and any photographs, video, or audio recordings taken of you for internal and external newsletters; news releases; journalist requests; and Concordia University of Edmonton promotional materials, including the World Wide Web, printed documents, audiotapes, videotapes, CD-ROMs, posters and in any and all other media, whether now known or hereafter existing, controlled by the Concordia University of Edmonton. You will make no monetary or other claims against the Concordia University of Edmonton for the use of the above-mentioned media.