Go back to news
Next InfoSec Monthly Seminar – June 10
Posted on: Jun 3, 2021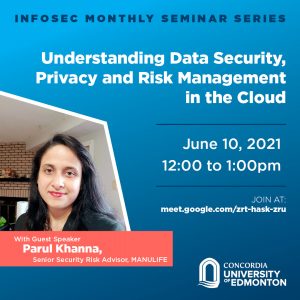 The Information Systems Security and Assurance Management (ISSAM) Department in Mihalcheon School of Management proudly invites you to:
Understanding Data Security, Privacy and Risk Management in Cloud
Organizations are rapidly moving to cloud providers to reduce costs, pursue digital transformation initiatives, and improve the agility of business. This session is centred on discussing fundamental cloud computing concepts, characteristics and services. It delves into how data security is achieved within cloud environment, best practices for systems and applications to protect data and reviews the risk associated with each of the cloud deployment models. In the end, the session also talks about cloud-based certifications and learning resources for folks looking to dive deep into the realms of cloud security.
Join us
Date: Thursday June 10, 2021
Time: 12:00 noon – 1:00 PM MST
Where: Google Meet
About the Speaker
Parul Khanna, MISSM, CISSP, CISM, CRISC, CDPSE, CCSK, Microsoft AZ-900
Senior Security Risk Advisor, Manulife
Parul is working as a senior security risk advisor for Manulife's Global Wealth Asset Management division. She graduated from MISSM program in 2016, served as GSA treasurer and published research paper on Doxing at cyber conference held in Montreal. She has extensive experience working in fast-paced corporate environment in finance, IT and insurance sector over the past 6 years. She brings a wealth of knowledge in cyber security investigations, data loss prevention (DLP), incident response, risk management, cloud security and software engineering. Previously, Parul has worked as a core team member of Global Security Operations Centre with Scotiabank. She serves as a subject matter expert on risk assessments, security control improvements and security solutions.
InfoSec Seminar Series
This monthly seminar series will provide high level presentations about various research directions and technology trends in the field of Information Systems Security and Assurance Management. The seminar series is open to anyone who is interested in security research and technologies, not only to Concordia University of Edmonton (CUE) members. The seminars are held on the second Thursday between 12:00 noon – 1:00 PM
Contact
If you have any questions regrading this seminar series, please contact Dr. Eslam G. AbdAllah, Assistant Professor, MISSM, Faculty of Management at eslam.abdallah@concordia.ab.ca