Go back to news
Kira Shares Her Enchanted World
Posted on: Apr 9, 2019
Kira Dawson is firmly rooted in this world: model student, swim instructor, volunteer director of the women's and children's choirs at her church, classroom helper at Virginia Park Elementary, devoted big sister, oboist. "Snake charmer instrument," she adds.
It is a telling detail: she grew up with bookshelves of fairy tales, folklore, fantasy, and Disney movies that piqued her imagination. She has seen the movie Aladdin, she estimates, fifty times. And she is still engrossed by the idea of an otherworldly setting that is at once warm and nostalgic, and exciting. "It's an escape from reality—it takes you to a different place where you can dream a little more and have more adventure," she explains.
It is a world of drama that she is drawn to also in her vocal repertoire. Like an aria from Handel's opera Rinaldo, a story of passion set during the First Crusade, or Vilja from "The Merry Widow," about a wood nymph who enchants a young man with her beauty.
But the ability to share that emotion in her voice and face and body is something she had to learn from voice teacher Jolaine Kerley. She also pushed her student's range several notes higher, to Kira's amazement. "Jolaine completely broke me out of my shell!" she exclaims. "She taught me so many things I didn't know I could do."
It is the kind of insight, or courage, Kira looks forward to sharing with others. She is excited to start in Concordia's Education program in the fall. But in the meantime, there is her recital, Enchanted, this Friday! She invites attendees to step a bit out of their comfort zone to enter more fully the magical world she loves. The audience is encouraged to come dressed as their favourite character from a movie, story, book, or fairy tale, and to become more active participants in the whole experience as Kira sings about "forests, fairy tales, magic and more."
It is a ploy worthy of someone who has always wanted to be an elementary school teacher. Or of a big sister driven to desperate measures. She was appalled to discover last year that her 10-year-old sister had never been exposed to any Disney movies: they are unavailable on Netflix. Kira and her just-younger sister moved quickly to remedy this unthinkable oversight. "It is very important that Jayden is educated in the Disney movies," she says firmly.
So who is Jayden dressing up as for the recital? "Horatio, from the play Hamlet," Kira admits. Her Disney education may not yet be complete.
But rest assured, Kira is just getting started.
Enchanted is free and open to the public, with reception to follow. Please dress up! Details here.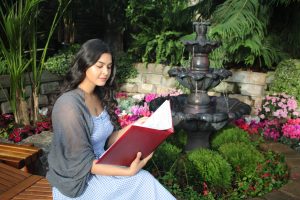 The full slate of upcoming recitals:
Mar 30 WHAT IS WOMAN? Gerdiene Trautmann profile
Apr 6    EMERGE Christina Sawchuk profile
Apr 12  ENCHANTED Kira Dawson
Apr 13  THE RINGING ARTISTRY Isabela Ramos profile
Apr 14  TAKING FLIGHT Joanna Wittmeier profile