Go back to news
Canada's First Music Major Studying Handbells Prepares Solo Recital
Posted on: Mar 19, 2019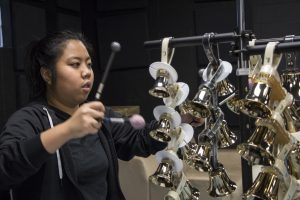 Concordia student Isabela Ramos arrived in 2015 from Calgary with a band's worth of instruments under her belt, so to speak, from bassoon to bass guitar: a gifted multi-instrumentalist seeking a general music degree. On a lark she registered for a beginning handbell ensemble, and entered a whole world of sound that shifted her life's focus. She had stumbled into the largest collection of handbells and handchimes in Canada, an internationally recognized handbell conductor—and private instruction. 
"There weren't enough students, so they cancelled the class," Isabela recalls.  "I ended up taking handbells as an instrument study and didn't realize what I was getting myself into! I ended up loving solo ringing because of the freedom and dexterity that it offers, and a year later joined both [novice and advanced] handbell ensembles."
Almost four years later, she is poised to graduate in May as the first Music Major studying handbells in Canada.
"Never in my wildest dreams would I have predicted that a seemingly nonchalant email inquiry from a student would unfold the way it has over these past four years," muses instructor Debbie Rice, past president and honorary lifetime member of the Handbell Musicians of America. "Isabela just fell in love with the bells. And her determined rehearsal ethic, self-motivating spirit, quest for knowledge from the handful of international soloists and desire to study unique advanced repertoire that stretches boundaries have shaped the handbell musician she has become."
"The handbells are so complex and challenging, yet peaceful," Isabela says. "There are so many creative ways to play the instrument. And playing in an ensemble is a powerful way to share the love for an instrument. We all come together to create music, and that's my favourite part of it all."
Spoken like a true conductor: before long she was standing in front of the other ringers and leading the occasional piece from the podium. Now a valued conducting assistant with both JuBELLation and Jubiloso! Bells of Concordia, she has branched into that role as well with the choir at St. Timothy's Anglican Church, Edmonton. Having pushed the envelope of handbell performance, she hopes to continue her studies in voice next year at the University of Alberta, culminating in an eventual Master's degree in choral conducting.
Isabela's talents as a multifaceted solo ringer will be on display in her senior recital, The Ringing Artistry, Saturday, April 13 (7 pm at St. Timothy's Anglican Church, 8420 145 Street, Edmonton). She will showcase all of the advanced technical skills of handbell ringing in every possible combination, including the rare phenomenon of bell trees with more than 30 bells suspended in multiple vertical rows—the latest additions to her instrumental repertoire. The recital is free and open to the public, and will be followed by a reception.
The following day, April 14, at 4 pm also at St. Timothy's, Isabela will be featured as a conductor and ringer with Concordia's handbell ensembles in Shall We Dance. Concordia faculty, staff, and students can pick up a complimentary ticket from Jennifer in A306. Subsequent tickets ($20/$15) can be purchased through Concordia's Bookstore, Tix on the Square and at the door.