Go back to news
"Triple Threat" Sawchuk Emerges
Posted on: Apr 1, 2019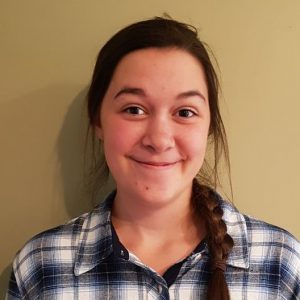 Senior Christina Sawchuk has options.
As late as last August she still wasn't sure whether her primary instrument should be voice (with Jolaine Kerley) or piano (with Dr. Ping-Shan Liao), a decision that would govern the shape of her senior recital and, indeed, her whole senior year. In other words, she was equally passionate about—and, more impressively, equally advanced in—the two instruments. On the one hand she had completed grade 10 piano in the Royal Conservatory system, the benchmark for professional accompanists (and for two years had accompanied the Richard Eaton Songsters, a subset of the Richard Eaton Singers). On the other hand her interest and proficiency in voice had developed through private lessons as well as in the Concert Choir and solo opportunities, and last summer especially as a member of the prestigious National Youth Choir.
In the end piano won out. A decision influenced, perhaps, by her concurrent emergence as a chamber musician: the last three years she has played with fellow seniors Natalie Tederoff (violin) and Joanna Wittmeier (cello) in the chamber trio Ombra di Musica, mentored by Dr. Danielle Lisboa. But choral music continues to contend for her attention, not only as a singer in the Concert Choir, Alberta Youth Choir, and Pro Coro Canada's youth-mentoring choir, #connect, but last year as an occasional conductor of a chamber choir spin-off.
Perhaps most impressive? In a blistering three years she will have completed the requirements for the four-year degree—a tribute to her incredible diligence as well as the flexibility offered by the music program at this "boutique" university. Over the three years Christina took overloads and an array of spring/summer courses, including Inspiration for Teachers, a professional development course for music educators that parallels and engages closely with Concordia's annual summer choral camp, Singspiration. And she was able to apply her invaluable experience with the National Youth Choir as partial fulfillment of an independent study option.
Yes, Christina has options. So what does she plan to do after graduating? First: take a brief break from school, for the first time in two years! Then: get married. In late July she plans to marry Aaron Debusschere, a recent Concordia grad. And then? She hopes to be back in the fall for Concordia's Education program, which first attracted her attention from her native Cold Lake.
In the meantime, catch Christina's talents as a pianist in her senior recital, EMERGE, at 7 pm on Saturday, April 6 (details here).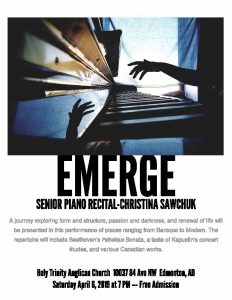 The full slate of upcoming recitals:
Mar 30 WHAT IS WOMAN? Gerdiene Trautmann profile
Apr 6    EMERGE Christina Sawchuk
Apr 12  ENCHANTED Kira Dawson
Apr 13  THE RINGING ARTISTRY Isabela Ramos profile
Apr 14  TAKING FLIGHT Joanna Wittmeier