Go back to news
Joshua Wong Wins 2019 Concordia Symphony Concerto Competition for Youth
Posted on: Dec 10, 2019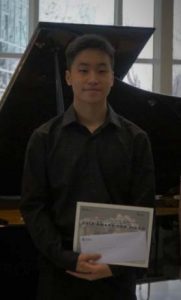 The Robert Tegler Student Centre resonated with piano music December 7 as Concordia University of Edmonton hosted the final round of the Concordia Symphony Concerto Competition. The winner of the 2019 Award for Piano, sixteen-year-old Joshua Wong from Calgary, will perform Rachmaninoff's Piano Concerto no. 2 with the Concordia Symphony Orchestra on March 1.
The adjudicators for the 2019 event, Dr. Bianca Baciu, Dr. Ping-Shan Liao, and Dr. Danielle Lisboa, awarded the Outstanding Musicianship Award to Eric Shan, a ten-year-old from Calgary, and an Honorary Award to Sirui Li, 13, of Edmonton.
The certificates and scholarship prizes were handed out by Mr. Henry Fung, a representative of the Alberta Chinese Cultural Society, which sponsored the competition prizes alongside Long & McQuade.
Mark your calendars now to experience the extraordinary talent of Joshua Wong with the Concordia Symphony Orchestra in March!