Go back to news
Join us for our InfoSec Seminar on Oct 14
Posted on: Oct 7, 2021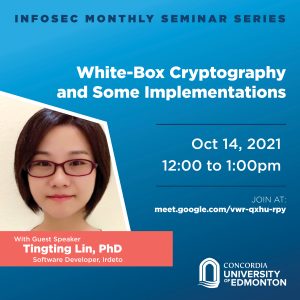 The Information Systems Security and Assurance Management (ISSAM) Department in Mihalcheon School of Management proudly invites you to the monthly InfoSec Seminar. The seminar series will be open to anyone who is interested in security research and technologies, not only to Concordia University of Edmonton (CUE) members.
White-Box Cryptography and Some Implementations
Over the past two decades, the field of cryptanalysis has experienced major changes with the violation of the black-box premise that the attacker only has access to observations external to an implementation of a cryptographic algorithm. Attacks focused on the implementation details of cryptographic primitives in devices are called white-box attacks, which have become common in recent years. With white-box attacks, one can no longer assume that an operating environment can be trusted. An adversary can directly observe and tamper with the implementation to extract information about the cryptographic key. Therefore, the traditional cryptographic algorithms that have been built on the assumption that the adversary has only access to the external data as per a black box model functionality generally incorporate no countermeasures to such attacks. White-box cryptography (WBC) was proposed to address this problem – it aims to provide security even where the attacker is able to perform invasive active attacks on the software implementation of the cryptographic algorithm.
See you there!
Date: Thursday October 14th, 2021
Time: 12:00 noon – 1:00 PM
Meeting Link: Google Meet
About the Speaker
Tingting Lin, PhD, Software Developer, Irdeto, Ottawa, ON
Tingting graduated from Shanghai Jiao Tong university and got her doctoral degree in 2016. After that, she was funded by Mitacs Accelerate to work on white-box cryptography as a postdoctoral fellow in Queen's university. Her research focuses on white-box cryptography and software protection. Now Tingting is working in Irdeto for white-box design and implementation of Chinese ciphers.
Contact
If you have any questions regrading this seminar series, please do not hesitate to email Shawn Thompson or Eslam G. AbdAllah, MISSM, Faculty of Management.