Go back to news
Thunder Director of Athletics & Recreation Steps Down; Interim Director Named
Posted on: Oct 7, 2021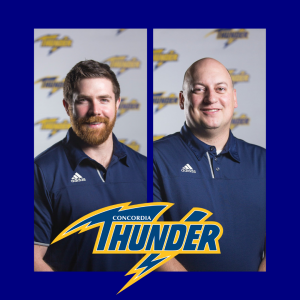 EDMONTON, AB – Concordia University of Edmonton (CUE) Director of Athletics & Campus Recreation, Joel Mrak, has stepped down from his role, as he prepares to move downtown to oversee the MacEwan University Griffins athletics department in mid-October.
"I wish to thank the senior administration team at CUE, especially Dr. van Ingen, for trusting me with the leadership of the department," said Mrak. "I take great pride in the achievements that we have accomplished as a department, and have been fortunate to be surrounded with such talented staff and coaches for all these years. Having a front row seat to the development of these student-athletes as people and as competitors has been a great pleasure in my life, and am grateful for the opportunity to serve them."
Mrak was first hired in 2011 as the Head Coach of the Men's volleyball team, before moving into the Director position after previous director, Bernie Masterson, retired in 2013 after 38 years of service to the University. During his tenure, the Thunder won six CCAA national championships, hosted two CCAA national championships, received the CCAA Community Service Award in 2021 for the "11 Days of Giving" campaign, and was bestowed with the ACAC Athletics Director of the Year award in 2017-18.
Taking over the helm in athletics will be Nathaniel MacLellan, who will begin his role as Interim Director of Athletics & Recreation in mid-October, and will continue on through to May 2022 to provide stability during this transition season in dealing with the ongoing COVID pandemic. MacLellan has worked in the Thunder athletics department for over six years, most recently as the Program & Sport Information Coordinator, and has also served in a senior leadership position as the Executive Director of Judo Alberta.
"It is an absolute honour to accept the Interim Director of Athletics & Recreation role at Concordia University of Edmonton," said MacLellan. "I am privileged to have been able to work with so many amazing people in the CUE community over the past six years and I am looking forward to taking on this new challenge and building new relationships on campus in this leadership role. I would like to wish Joel all the best in his new role with MacEwan and I will continue to develop the successful athletics program he has built here at Concordia."
"While it is sad that Joel is leaving CUE, and I'm grateful for his excellent leadership over the years, I'm also pleased to welcome Nathaniel as the interim Athletics Director," said VP Student Life & Learning, Dr. Barb van Ingen. "Nate is respected and knowledgeable about CUE, the ACAC, and the CCAA, and will be a strong leader for the Thunder into the future. All the best to Joel and congratulations to Nate!".
The permanent replacement for the Director of Athletics & Recreation position will be addressed in the spring of 2022.