Go back to news
Concordia University of Edmonton signs partnership agreement with the Sul-Rio-Grandense Federal Institute of Education, Science, and Technology in Brazil to drive innovation and support applied research
Posted on: Jun 15, 2021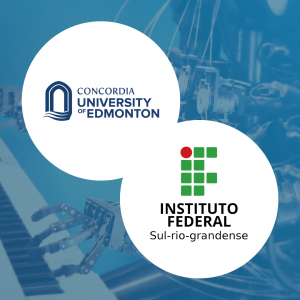 Concordia University of Edmonton (CUE) is proud to announce a new partnership with the Sul-Rio-Grandense Federal Institute of Education, Science, and Technology (IFSul) in Brazil to foster opportunities for collaborative research and innovation.
IFSul is a federal public institution with fourteen campuses across the state of Rio Grande do Sul. A social policy incubator, IFSul weaves together culture, science, and technology, and is recognized globally for its student experience and commitment to economic development.
"Brazil is one of CUE's three primary focus areas for international outreach," said Dr. Manfred Zeuch, Vice-President External Affairs and International Relations. "Unlike other partnership agreements that are geared towards student mobility, IFSul and CUE will be collaborating on innovative projects and applied research, with a focus on artificial intelligence and machine learning. We know that creating high-impact talent is critical for Alberta's future and that the challenges facing industry today are not localized to our province. Global challenges require global solutions, and through partnerships like this one, we can set the conditions for our students, and industries, to achieve success."
CUE is home to three technology centres, including a Centre for Applied Artificial Intelligence (CAAI) that works to facilitate the needs of business, government, and academia in developing and implementing artificial intelligence-based strategies for success.
"Artificial intelligence is a transformative technology that offers businesses across sectors significant advantages," said Mike Wade, Director of the CAAI. "Collaboration opportunities like this one are critical as we seek to develop and commercialize artificial intelligence in an equitable and responsible way."
In addition to the CAAI, CUE is home to the BMO Centre for Innovation and Applied Research and the McNeil Centre for Applied Renewable Energy. All three of CUE's innovation centres are focused on working collaboratively with industry and stakeholders and help transform and diversify Alberta's economy.
The partnership between CUE and IFSul was facilitated through the consulate of Canada in Porto Alegre and Global Affairs Canada, and a memorandum of understanding (MOU) between the two institutions was signed in May 2021.
"The MOU signed by IFSul and CUE is the beginning of a relationship that will result in joint technological innovation project, and the sharing of knowledge and experiences," said Flávio Luís Barbosa Nunes, President of IFSul. "Our next step is to define our focus areas and begin working together. We look forward to deepening this important relationship, and creating opportunities for collaboration between Canada and Brazil."
More information will be shared as the partnership continues to develop.
-30-
About Concordia University of Edmonton
Concordia University of Edmonton is Canada's pre-eminent small university, offering over 45 majors and minors in the fields of arts, science, and management, as well as two after-degree programs, several master's degrees, several graduate certificates and diplomas, and a doctorate in clinical psychology. In and out of our classrooms and lecture halls, we translate what we learn into extraordinary hands-on experiences. Our ultimate goal has not changed since 1921: to be more than students and professors, to create a community of active citizens, of good and honourable people. For more information, visit www.concordia.ab.ca.