Go back to news
Highlights from CUE's First Faculty Research Symposium
Posted on: Apr 20, 2021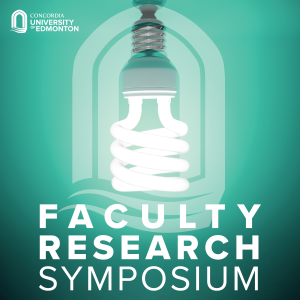 Last Thursday, faculty members, students, and staff participated in Concordia University of Edmonton's first Faculty Research Symposium.
The online event highlighted some of the fascinating research being done here at CUE, and elsewhere in Alberta.
The Symposium was opened by CUE's Vice President Academic and Provost, Dr. Valerie Henitiuk, and the keynote address was delivered by Dr. Lorne Tyrrell, founding director of the University of Alberta's Li Ka Shing Institute of Virology. Dr. Tyrrell described recent Canadian work on the development of antivirals and vaccines for SARS-CoV-2.
The morning session also featured a presentation by Dr. Elizabeth Smythe, a recipient of CUE's Gerald S. Krispin Research Award. Dr. Smythe's lecture was titled "Front Of Package Food Labelling, International Trade and Food Security for a Healthier Future."
Throughout the day, researchers from all of CUE's Faculties offered glimpses into the range of compelling research that is being conducted by members of the CUE community, and more details about the day's events can be found here. 
The Office of Research Services offers sincere thanks to all participants who helped make the inaugural symposium a success!
---
This event is part of the portfolio of the Asst. Vice-President Research, and organized with assistance from the Office of Research Services. Research at Concordia University of Edmonton is supported in part by the Research Support Fund, a Tri-Agency initiative that assists Canadian post-secondary institutions with costs associated with managing research funded by the federal research granting agencies. Concordia University of Edmonton acknowledges the value of this support and appreciates this ongoing research investment.