Go back to news
CUE Library's eBook Pilot Project
Posted on: Apr 21, 2021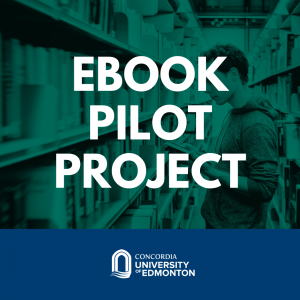 In Fall 2020, CUE Library initiated a pilot project to address rising assigned readings costs and support instructors with online course delivery. CUE Library staff reviewed all fall term course syllabi to identify assigned readings that could be substituted with library ebooks with licensing terms large enough to accommodate class size and anticipated use. As such, 76 ebooks in 45 courses were identified. Of these titles, 61 were already available within CUE Library's electronic collections and 15 were purchased at a cost of $1,750.
CUE Library estimates, based on enrolments in the relevant courses, that these 76 ebooks had the potential to replace 1,561 individual retail copies and provide financial savings to 1,069 CUE students. If every enroled student chose to use the library ebook copy, rather than purchase the retail print edition, the total cost avoided would be over $87,000.
CUE Library is pleased to report on the success of this pilot service and will continue to review course syllabi for library ebooks with suitable licensing terms for course use.
If you would like advice on library ebook availabilities and licenses, please contact Myrna Dean.
Learn more about sharing CUE Library ebooks with your classes here: https://cuelibrary.blog/2020/07/29/sharing-library-ebooks-with-your-classes/