Go back to news
Greetings from Ottawa!
Posted on: May 9, 2018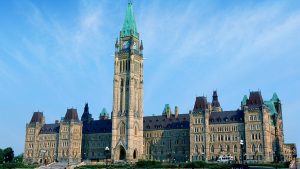 Wednesday, May 9
Today, Concordia hosted a lunch reception for MPs on Parliament Hill.  See President Loreman's Twitter account for an assortment of photos from this visit.
A visit with the Chinese Ambassador, Mr. Lu Shaye and his staff in the Chinese Embassy, was on the agenda.  There was so much to discuss  as CUE's outreach to China is strong and growing. Along with academic, research, industry and cultural cooperation, conversation also included:
the development of our Centre for Chinese Studies (CCS)
the Centre for Chinese Teacher Development (CCTD)
our brand new double degrees with Beijing Foreign Affairs University
the planned Concordia Concert Choir's tour to China in 2020
preparations for Dr. Loreman's comprehensive visit to China in November 2018
Concordia is thankful for Hanban's support of our CCTD and CCS and we hope to increase the numbers of incoming and outgoing students from and to China in the near future.
Tuesday, May 8
Board Chair, Mike Wade, President Tim Loreman and VPEI, Manfred Zeuch met again with MP Ziad Aboultaif and staff, as well as Mr. Felipe Sequeiros, the Brazilian embassy's diplomat in charge of education.
Discussion abounded on CUE's outreach in Brazil (a strong region for us), including great conversations about academic and cultural exchange, industry and business cooperation, and the fascinating and innovative research area of machine learning and artificial intelligence.
Monday, May 7
Concordia has embarked on a mission to Ottawa today to raise the profile of our small pre-eminent university on Parliament Hill.
Accompanied by local MP Ziad Aboultaif, Board Chair, Mike Wade, President Tim Loreman and VP External Affairs and International Relations, Manfred Zeuch have a full schedule of meetings over the next couple of days with MPs and foreign ambassadors.
So far this morning, they have had productive meetings with French Ambassador Karen Rispal and staff, discussing CUE's outreach to France, our double degrees, industry connection and mobility.