Go back to news
An Important Update for MISAM, MISSM, and MScIT Students
Posted on: Jun 14, 2021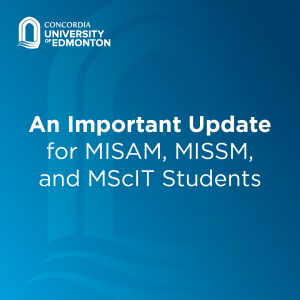 As the COVID-19 situation in Canada and around the world continues to evolve, Concordia University of Edmonton (CUE) is committed to making informed decisions that prioritize the health, safety, and wellbeing of our community.
While we are planning for a near full return to in-person learning this fall, we recognize that there are currently barriers in place negatively impacting many students, including significant travel restrictions. With this in mind, we have an important update for Master of Information Systems Assurance Management (MISAM), Master of Information Systems Security Management (MISSM), and Master of Science in Information Technology (MScIT) students.
Our MISAM and MISSM programs will be virtual for the fall semester, meaning students will be competing their studies online. International students enrolled in these programs will not need to physically be in Canada this fall.


Students enrolled in our MScIT program will have a choice in their program delivery method for the fall semester. Students will be able to choose either face-to-face learning or online learning. International students who choose face-to-face learning will need to physically be in Canada this fall. International students who choose online learning will not need to physically be in Canada this fall.
All MISAM and MISSM course sections will be delivered virtually. As such, our Graduate Diploma in Information Assurance and Graduate Diploma in Information Security programs will also be online for the fall semester. CUE will be opening both online and face-to-face MScIT course sections in the near future. Classes start on August 30, 2021, and students have until September 7, 2021, at noon MDT to register in their courses.
This decision is intended to provide our international students with flexibility and choice, recognizing the Government of Canada's current travel restrictions pose significant challenges. We anticipate that the travel restrictions will be lifted sometime in the coming months and that we will be able to return to face-to-face learning for the winter semester (January 2022). This means that all students will be expected to attend face-to-face courses beginning in January 2022.
We appreciate your understanding and look forward to offering exceptional learning experiences this fall.