Go back to news
CUE Library Updates & Information for Instructors
Posted on: Sep 8, 2020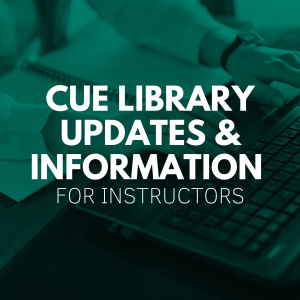 CUE Library remains available to support your teaching needs virtually during the fall semester!
Download a copy of our instructor information sheet and keep up-to-date with our services by visiting our COVID-19 CUE Library Service Updates webpage.
Library Information for CUE Instructors
COVID-19 CUE Library Service Updates
Check Links to Online Library Resources
It's best if you can check your links to CUE Library's electronic resources as soon as possible.
Guide: Sharing Links to Library Resources
Have Questions? Contact your Program's Liaison Librarian
---
Consult with CUE's Copyright Officer
Ensure your course materials are copyright compliant by emailing CUE's Copyright Officer.
Contact CUE's Copyright Officer, Lynette Toews-Neufeldt:
lynette.toews-neufeldt@concordia.ab.ca
---
Schedule an Online Library Instruction Session
Program liaison librarians are available to provide your students with valuable research instruction sessions for your online classes.
Schedule a Library Instruction Session Here
Online library instruction sessions can take various forms:
A live virtual demonstration (Google Hangouts, Zoom, etc.)
Sharing library instructional materials (PowerPoint/PDF slides etc.)
---
Request an eBook Licensing Check
Are you planning on posting a link to a CUE Library ebook in your Moodle? Let library staff check to see if the ebook's license can accomodate your class.
Request an licensing check by emailing: