Go back to news
CUE graduate Shannon Ross awarded the 2022 Governor General Academic Silver Medal
Posted on: Jun 1, 2022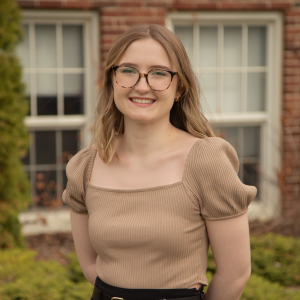 At this weekend's Convocation, graduate Shannon Ross was honoured with the Governor General Academic Silver Medal. Shannon is a graduate from the Bachelor of Science program with a major in biology and a minor in psychology.
After graduating in a class of thirty students in her hometown of Ponoka, Shannon was drawn to CUE for the small classes and strong sense of community. She played an active role in the CUE community, serving as a peer coach and as the vice president of marketing for the Concordia Science Union. "As someone who started university quite shy, these roles helped me come out of my shell and contributed to me leaving university as a more confident, outgoing individual."
Shannon says she was always a "big science kid" growing up. After volunteering in a hospital in high school, Shannon knew she wanted to pursue a career in healthcare. Her goal is to become a physician and she is currently applying to medical school. 
As she enters the next chapter, Shannon has some advice for current students: "Remember to take care of yourself. As a student, it is often too easy to sacrifice your well-being in the name of academic achievement," she says. "Surround yourself with people who support you and help you to be healthy."
For nearly 150 years, the Governor General's Academic Medals have been awarded to recognize outstanding achievements of Canadian students. Each year, the silver medal is awarded to a CUE undergraduate student at Convocation.