Go back to news
CRKN-Negotiated APC Discounts (SAGE Open Access Portal)
Posted on: Oct 22, 2020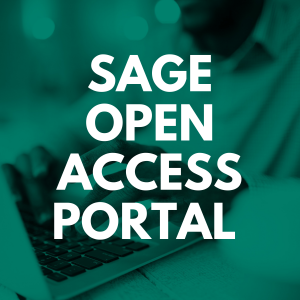 SAGE Open Access Portal (SOAP) is a centralized portal that serves to automate SAGE's open access publication process.
This integrated online platform, which provides a single portal for authors, consortia, libraries and funders to manage open access publishing across more than 1000 journals published by SAGE, is now live for authors affiliated with the Canadian Research Knowledge Network (CRKN).
CRKN members participating in the CRKN-SAGE license are eligible to receive a 40% discount on the Article Processing Charge (APC). Authors submitting their manuscripts to SAGE will be automatically notified of any APC discount eligibility.
The following steps briefly outline the process of submitting a manuscript through the portal:
Authors identify their institution affiliation upon manuscript submission.
Authors are notified by email of article acceptance. They are also notified of their eligibility for the 40% APC discount.
Within the portal, authors can accept or decline to publish their article open access.
If an author declines to publish in open access, their article will be published via the subscription route.
In the portal, the author can select their copyright license and assign a payer (i.e. funding agency, institution, or a different bill payer), and make the APC payment.
For additional information about SOAP, please see the official press release here: https://us.sagepub.com/en-us/nam/sage-open-access-portal
In addition to the discount described above, members of the CUE community can also benefit from CRKN's APC discount agreement with the American Chemical Society. Authors receive a $250 USD flat discount that is applied upon submission of a manuscript. Authors must identify their institutional affiliation to qualify for the discount.