Go back to news
Indigenous Strategy – Student Focus Group
Posted on: Oct 23, 2020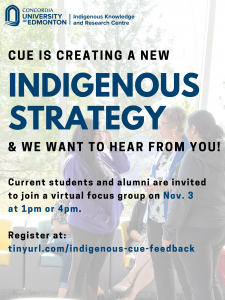 We want to hear your thoughts!
All students and alumni are invited to join one of two virtual focus groups on Tuesday, November 3rd (1pm or 4pm). We will be collecting feedback from students on the direction of Indigenous intiatives at CUE.
If you are interested in participating in this important discsusion, please register at the link below!
https://docs.google.com/forms/d/e/1FAIpQLSc_aaLtmN3iQ4purKXwMeKQ_cflMFOrX6cNGZFX8aDyoU4NFA/viewform?usp=sf_link