Go back to news
First International Dual Degrees Program with BFSU, renowned Chinese university, now available at Concordia University of Edmonton
Posted on: Dec 15, 2017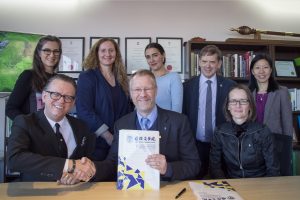 A newly signed agreement will allow students to earn their dual Bachelor of Management degrees from both Beijing Foreign Studies University (BFSU) in China and Concordia University of Edmonton in 4 years, starting in September.
"We at BFSU are very excited about this new partnership with CUE in developing international talents through the efforts of both institutions," said Dr. Liu Peng, Associate Dean of IBS (International Business School), BFSU.  "Since its establishment in 1941, BFSU has always been the pioneer among Chinese universities in international collaboration and cultivating talents with a global vision and outstanding foreign language skills. It is among the first group of Chinese universities in receiving students from other countries since 1950s. This dual-degree program with CUE will enable students from both sides to engage in more frequent exchanges and sharing of knowledge and experience. It will be extremely meaningful for students who wish to deepen their understanding of the world and broaden their career opportunities in the future. We sincerely look forward to welcoming those ambitious young elites to study in BFSU."
Eligible students will study in Beijing for years 2 and 3 of their Bachelor of Management degree, after successfully completing the first year of study at Concordia University of Edmonton.  They will then return to Concordia for their final year.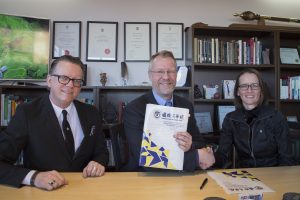 "The signing of this agreement is a great and historical moment for Concordia, as it is the first international double degrees program in our history," commented Dr. Manfred Zeuch, Vice-President External Affairs and International Relations. "We are pleased and honoured to be signing with BFSU, a prestigious university in China, and this venture will enable our students to gain significant global experience and international competencies in the fields related to management, business, finance etc. This is a strong
milestone for our relationship with China and hope this will strengthen our academic, cultural and friendship ties."
For further information, please contact:
Dr. Manfred Zeuch
VP External Affairs & International Relations
Concordia University of Edmonton
manfred.zeuch@concordia.ab.ca
P.780-479-9329
For BFSU's announcements:
In English: https://solbridge.bfsu.edu.cn/1747
In Chinese: https://ibs.bfsu.edu.cn/news_info.aspx?m=20140924110426590016&n=20171219095248893422
 
About BFSU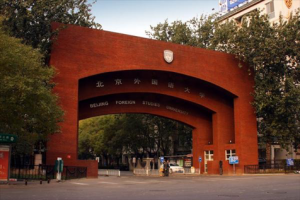 Beijing Foreign Studies University (BFSU, or Běiwài, as it is popularly known (Chinese: 北外) in Mandarin), is China's pre-eminent foreign language teaching university. As a renowned and prestigious teaching university, BFSU was affiliated with the Ministry of Foreign Affairs from its establishment in 1941 to the early 1980s and was classified a key university under the Ministry of Education. It is one of China's top universities listed under the Project 985 and Project 211, both comprising top universities in China.
At present, BFSU is one of China's oldest language universities, teaching the most number of languages (84 international languages) and offering education at different levels, including doctoral programs in foreign languages and literature, Chinese language and literature, journalism and communication, political science, law, management, science and engineering, etc. BFSU now serves as an important education base for qualified professionals with language competence who, after graduation, work as diplomats, translators/interpreters, businessmen, journalists, lawyers, bankers, etc.  Over 400 ambassadors and over 1000 counsellors who work or have worked in the Ministry of Foreign Affairs, are BFSU alumni! BFSU is also known as the "Cradle of Diplomats".

BFSU's International Business School (IBS) is one of the youngest and most dynamic schools at BFSU as well as the largest in terms of student number.
Founded in 2001, IBS currently has more than 1500 students including undergraduates, postgraduates, international students, and overseas foundation programs students. IBS aims to provide future business elites from all over the world with the core of Chinese and world civilizations, pass on common values of all humanity, probe business knowledge both known and unknown, and help its students discover their own unique characters and values of life.
Over the years, IBS has made outstanding achievements in terms of teaching, research, social services and international cooperation. In 2002, IBS's economics & management faculty was identified as one of the key disciplines under China's 211 Project. In 2007, IBS was chosen as a pilot training base for transnational professionals in economics and management by the Chinese Ministry of Education and Ministry of Finance. In 2009, IBS was awarded the first prize by Beijing Municipal Government with its outstanding performance in training transnational talents in economic. In 2012, IBS was identified as a national demonstration model for experimental education.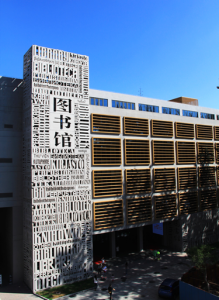 At present, there are:
six undergraduate programs including international economics and trade (compound and bilingual-based experimental class), finance, business administration (including international business), accounting (including international financial management), e-commerce, information systems;
three postgraduate programs including majors of management science and engineering, diplomacy (field of international economics), and international organization program (field of international economics);
five undergraduate programs for international students including international business, international finance, international marketing, Chinese business studies and international economics and trade;
one masters degree program for foreign students named international business.
The Dual degree program is open to all BFSU Chinese undergraduates.
About Concordia University of Edmonton
Concordia University of Edmonton is Canada's pre-eminent small university and is proud of its engagement with the international community.  We have robust relationships with many universities around the world, where study abroad opportunities and student exchanges provide academic development from a global perspective, as well as broadening students' horizons and offering once-in-a-lifetime experiences.  These relationships offer new learning, research, and knowledge-sharing opportunities for Concordia's faculty and staff, allowing the university to engage on a global scale.
Concordia University of Edmonton's park-like campus is nestled within the picturesque Highlands neighbourhood, located on Treaty 6 land, overlooking the North Saskatchewan River. We offer undergraduate degrees in Arts, Science, and Management, a Science and Management dual degrees program, as well as graduate certificates and diplomas, after-degree programs in Education and Public Health, and master's degrees.