Go back to news
Concordia signs agreement with Australian partner
Posted on: Aug 21, 2017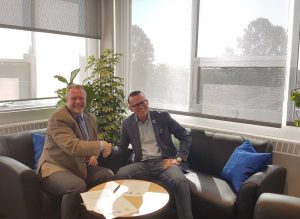 CUE President, Dr. Tim Loreman (who holds a dual Australian-Canadian citizenship) and Vice President International and Research, Dr. Manfred Zeuch, signed a Memorandum of Understanding and a Student Exchange Agreement with the University of Southern Queensland (USQ), today.
USQ is based in Toowoomba, Queensland, Australia, with three university campuses at Toowoomba, Springfield and Ipswich.  The agreement initially allows for an exchange of up to two (2) students per year. The MOU allows both institutions to develop student, faculty and staff mobility, joint research activities and publications, seminars etc, and sharing of materials and resources.
CUE has been searching for a partnership in Australia for several years and, thanks to the Australian Trade and Investment Commission office in Toronto (Austrade), who kindly mediated this new partnership, it has now come to fruition.
We look forward to developing a fruitful relationship with our friends at the University of Southern Queensland.