Go back to news
Concordia Login Changes – August 29
Posted on: Aug 23, 2018

IT Services would like to announce changes that are coming to the way you login to some Concordia services. Prior to the Fall term, we are taking a major step to improve simplicity and security when logging into two of our services for students, faculty, and staff.
As of 7 AM on August 29, three noteworthy things are changing:
We are enabling Single Sign On for access to Concordia Google accounts. You will no longer be taken through the regular Google login screens when accessing your Concordia Google account.
We are enabling Single Sign On for access to the Concordia Online Services site.
We are introducing the ability to enable two-factor authentication for login to all Concordia single sign on services.
For more information on single sign on and two-factor authentication see: https://concordia.ab.ca/campus-services/help-desk/support/#login
How can I identify the real login page?
With the heightened awareness of phishing attacks and other web security dangers, it is important to be attentive any time you are entering your username and password on a website.
Here is an example of our single sign on page: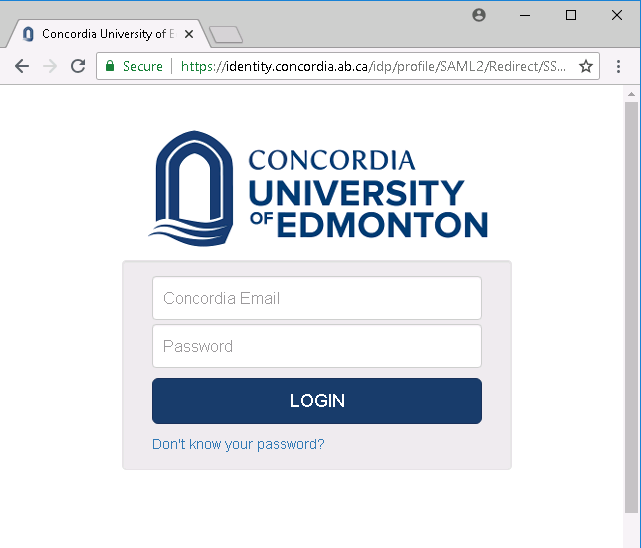 There are a few things to note: The Concordia single sign on login page will always have an address starting with https://identity.concordia.ab.ca as in the image above. That address bar will also contain a padlock, indicating that the site is who it claims to be. If your web browser shows an address that's different in any way, including failing to show "https" at the start of the address, it is not legitimate.
It is also worth reminding that Concordia IT Services does not (and will not) ask for your username and password over email.
What do I need to do for this change?
From August 29 and on, accessing Online Services or your Concordia Google account through a browser will take you to the single sign on page to login. We encourage you to enable two-factor authentication to increase the security of your Concordia accounts. Starting August 29, this can be done through Online Services. Note that Google accounts on mobile devices will continue to work with no action required on your part until your password expires. When your password expires, your mobile device will guide you through logging in again through the single sign on page.
How can I get help?
Both before and after the change, the IT Helpdesk is available to answer your questions or provide assistance with Single Sign On and Two Factor Authentication. We can be reached at 780 479 9316 or helpdesk@concordia.ab.ca as well as in the Arnold Guebert Library in L356.