Go back to news
Concordia Emerging Artists
Posted on: Jan 25, 2018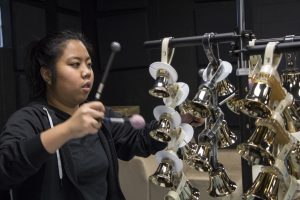 Concordia music students Isabela Ramos and Christina Sawchuk are among the Edmonton university students invited to perform in MacEwan Conservatory of Music's Emerging Artists Concert at Muttart Hall, Saturday, February 16. Their collaboration on handbells and piano will highlight Concordia's remarkable handbell program and collection.
Isabela plays more than a dozen instruments, and is one of eight students across Canada awarded a George Black Scholarship from the Hymn Society, for "potential in the field of congregational song." The award includes access to various resources and involvement in the Hymn Society's outstanding summer conference. Last year she attended the Handbell Musicians of America's national seminar in California on full scholarship.
Christina, a piano student, was selected as one of four Alberta choristers to sing in the 2018 National Youth Choir. She will travel to Newfoundland and Labrador for two weeks this summer to rehearse and perform with the NYC. Her selection marks the third consecutive year that Concordia has been represented in this prestigious choir, following Lynnéa Bartel Nickel in 2016 and Christian Maxfield in 2016 and 2017.