Go back to news
AI collaboration agreement signed with Brazilian university
Posted on: Jan 24, 2018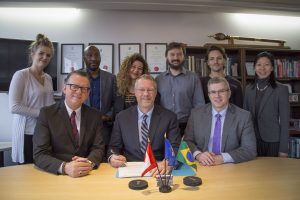 Concordia University of Edmonton is pleased to announce a new partnership with the University  of Joinville ("Univille") in the Brazilian state of Santa Catarina. This partnership will have a special focus on research collaboration in artificial intelligence in the area of health research, particularly with Univille's faculties of Medicine and Software Engineering.
"Univille is honoured to have Concordia University of Edmonton as a partner. We believe that this is the first step of a fruitful cooperation, starting with the Interdisciplinary Research Cluster on Machine Learning & Artificial Intelligence," said Dr. Sandra Aparecida Furlan, president of the Brazilian university. "Univille is motivated to work with CUE in Research projects and in other possibilities, promoting actions to raise the culture of internationalization in our institutions."
AI is seen as having significant implications for society in general, affecting everything from work, to education, and beyond.  The federal government has recently designated Edmonton as one of the centres of excellence for AI in Canada and Concordia is committed to providing the resources to ensure this project is successful. "As a university with masters level information systems security and assurance programs, this focus is seen as a natural progression in our course and research programming," Mike Wade, Chair of Concordia's Board of Governors explained.  
"The creation of Concordia's 10th research cluster on Machine Learning and AI is a significant step toward building capacity in research and innovation and connecting to industry and community," Dr. Manfred Zeuch, VP External Affairs and International Relations, stated. "We are excited with what this new partnership will bring in terms of the potential for AI in the medical area, and our cooperation with Brazil."

Top photo (left to right, back to front):
Ms. Amanda Thorson (International Officer); Dr. Partrick Kamau (Dean of Science and Director of the Centre for Innovation and Applied Research); Ms. Lainna ElJabi (Research Officer); Mr. Ed Boraas (CIO and chair of the Research Cluster in Machine Learning and AI); Tobias Lamaison Portella, Brazilian exchange student; Dr. Xinxin Fang (International Student Officer and Director for the Centre for Chinese Studies); Dr. Manfred Zeuch (VP External Affairs and International Relations); Dr. Tim Loreman (President and Vice-Chancellor); Mr. Mike Wade, Board chair, CUE.