Go back to news
CCS Chinese Teaching Summer Seminar Graduation
Posted on: Jul 17, 2017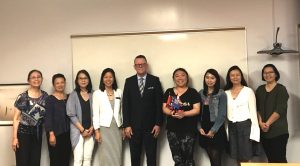 Concordia University of Edmonton's two-week Chinese Teaching Summer Seminar concluded successfully on Friday, July 14.
The participants received completion certifications from CUE and Hanban/Confucius Institute Headquarters (Beijing). They expressed their high level satisfaction towards the quality of the lectures and workshops. A lot of praise was given to the diversity of the lecture contents and the hands on experiences during the workshop.
The 45-hour seminar explored the following topics:
Guided Reading Pedagogy in Bilingual Education
Chinese Vocabulary Acquisition
Chinese Vocabulary Teaching Methods, Plans and Strategies
Reflection on Chinese Education from Chinese Visiting Teachers in Alberta
The Task and Role of Oversea Chinese Language Teachers
Introduction of International Curriculum for Chinese Language Education
Implementing Cultural Elements in Chinese Language Classroom
Body and Mind Power Teaching: An Alternative Way of Teaching
The Role of Mini-Movie in Chinese Language Classrooms
The Centre for Chinese Studies would like to thank all the invited presenters for their amazing presentations. The CCS also wants to thank the dynamic and engaged participants from around the province.
We look forward to see you again next year. Check out the photos and video below.
Concordia University of Edmonton – Building Bridges