Go back to news
Winter Potluck – December 19, 2019 – Register Your Dish
Posted on: Dec 18, 2019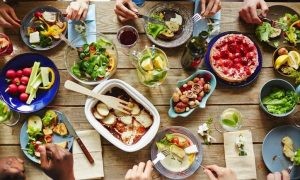 Please mark your calendar for Thursday, December 19 for the faculty and staff Winter Potluck.
When: Thursday, December 19, 2019
Time: 11:30 am – 12:45 pm
Where: Tegler Student Centre
What to Do: All faculty and staff are invited to participate. If you are able, please bring a favorite dish to share with your colleagues. Please fill out the attached google form identifying what dish you are bringing and any potential allergens.
NOTE: Dinnerware, coffee, tea and punch will be provided
Please follow this link to register your dish: https://docs.google.com/spreadsheets/d/1_QBFoeKcUL8AwTNPVWBlXXg9NOs9V3Kw8gI7aQpvUlc/edit?ts=5de52e4a#gid=0