Go back to news
Wednesday Update, June 17, 2020.
Posted on: Jun 17, 2020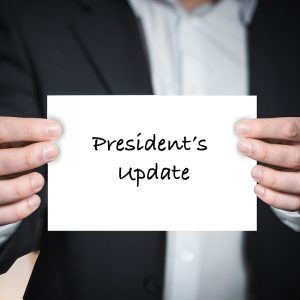 Dear CUE Community,
It's a bit wet and gloomy outside today but I hope you are all finding ways of keeping your spirits up. In any case, this week I have some information that I think will come as welcome news to many.
On campus courses for fall 2020
Despite the Alberta Relaunch Strategy advancing to Stage 2, our reopening plan for the fall 2020 semester remains to provide predominantly remote course delivery combined along with some very limited in-person experiences. I wrote about why this is the case last week. I know that many in our community are eager to know which courses will be offered in-person, and I'm happy to announce that the list of those courses is now posted on our COVID-19 website.
Canada Student Service Grants
As part of the federal government's COVID-19 Emergency Response Plan, CUE students and recent graduates who are looking to make a difference this summer may register for the Canada Student Service Grant. The CSSG was launched on June 15, 2020.
This is a good fit for Concordia, dedicated as we are to supporting our community, while at the same time providing benefit to our students. The CSSG has thousands of volunteer opportunities for students and recent graduates to support not-for-profit organizations facing COVID-19 service challenges, providing students with up to $5,000 for the work they do. Students who are working or receiving the Canada Emergency Student Benefit (CESB) are still eligible to apply for the CSSG. Students who are receiving the Canada Emergency Response Benefit (CERB) are not eligible for the CSSG. 
Faculty and sessional instructor orientation.
Unfortunately, we will not be holding our usual in-person Faculty Retreat in August this year. However, there will be an online orientation on Tuesday, August 25, for all new and returning CUE faculty members and sessionals. While this won't be the usual opportunity to informally catch up with friends before the start of the academic year, it will be a useful forum to hear information about what will be a most unusual fall semester. Faculty and sessional instructors, please hold the date and keep your eye on Inside CUE for more details to come.
Right-sizing our committee structure.
The Government of Alberta is asking all post-secondary institutions to find savings and efficiencies in administration in order to devote a greater share of resources to areas that clearly and directly focus on students. In order to do this, many institutions, CUE included, have been looking at their back-office operations to ensure that they are lean and effective. However, one area that receives scant attention is the amount of time, energy, and expense involved in operating the various committees that exist at each post-secondary institution. For this reason, I have decided to examine the number of formal and informal committees we have at CUE. I am looking to both reduce the number of committees we have and then reform the ways in which the ones that remain operate. I'll be working on this over the summer in order to enhance our institutional effectiveness.
Wishing everyone in our community all the very best. Stay safe, stay home, stay healthy.
Tim Loreman, PhD.
President and Vice Chancellor.