Go back to news
Wednesday Update from President Loreman, May 6, 2020
Posted on: May 6, 2020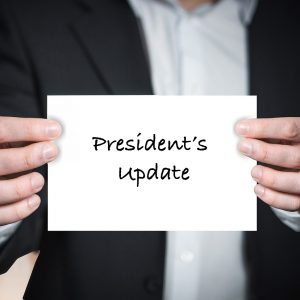 Dear CUE Community,
I hope that this update finds you all safe and well. Things continue to move forward at CUE despite the constraints we are working under. Welcome to all those who are taking and teaching our Spring classes back to our 'virtual campus' this week.
Since the ramping-up of the COVID-19 response I have very much had my finger on the pulse of what is happening at post-secondary institutions across Canada and in Alberta. In fact, my interactions with fellow university and college presidents along with relevant politicians and bureaucrats have been more frequent than at any other time during my presidency. I am connecting with these groups or individuals almost every day. The same can be said of our other senior administrators. This has been helpful as we share ideas and information, and work to ensure that the response to the COVID-19 crisis is at least somewhat coordinated across post-secondary institutions in Canada and/or Alberta. Of course, this does not mean that we always make the same decisions, but it is useful to have access to common information and perspectives on what our next steps should be so that we are not acting in isolation. It should be reassuring to our CUE community to know that our administration is actively connected with the national and provincial landscape, which in turn informs the decisions we make.
Planning for Fall 2020
What will the Fall semester look like? On Monday I posted a piece regarding CUE's planning for the Fall 2020 semester that can be accessed here. It is not as straightforward as many might assume. I think this statement will be of interest to most in our community, especially given the announcement of Alberta's Relaunch Strategy by the Government of Alberta last week.
Financial relief for vulnerable students
Our Graduate Students' Association (GSA) has donated $15,000 and the Concordia Students' Association (CSA) has donated $25,000 for special bursaries to support vulnerable students put at financial risk through COVID-19. CUE has matched those funds, contributing $40,000. The combined total amount in two new "COVID-19 Student Emergency Relief" funds is therefore now $80,000, and we are trying to raise more. One of the great things about CUE is the partnership between the university and our student associations. This is an example of that. Notably, the idea for this fund came from the student associations, demonstrating their support for the students they serve. We are currently determining the value of emergency relief bursaries, and the criteria for receiving one. More information will be available soon through our Financial Aid and Awards Office.
Mental health
Yesterday we held the annual President's Fundraising Breakfast for Mental Health online. Our keynote speaker was CUE alumnus Rev. Dr. (Maj. Ret'd) Robert 'Sandy' Scott. We also heard about the actions Concordia is currently taking to support our students from CUE student Christian Potolicki.
Thank you to all those who donated. Of significance is the $10,000 gift from the Concordia Students' Association, which was the largest single gift of the morning. All money raised will be put to good use on pro-active mental health initiatives at CUE, which are obviously much needed at this time. The good news is that you can still contribute! If you are able, please consider visiting our website to make a donation and select the Shaughn O'Brien Mental Health Fund from the drop-down list. Every dollar raised will make a difference in the lives of our students.
Speaking of mental health, our student mental health services at CUE remain fully accessible during COVID-19 and can be accessed through Student Life and Learning by calling 780-479-9241, or by email to studentlife@concordia.ab.ca. Employees in need of mental health services should connect with our HR department.
Please continue to work and study from home. I review the sign-in sheets on campus each day and am pleased to see that with very few exceptions only a very small number of required employees are on campus on a regular basis. Everyone is sick to death of staying at home and some of us, including me, are getting weirder by the day, but we do need to keep that up.
Stay safe, stay home, stay healthy.
Tim Loreman, PhD
President and Vice Chancellor.