Go back to news
WECAN Baskets – November 2022
Posted on: Oct 24, 2022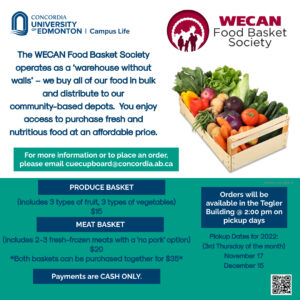 We are now accepting orders for the November WECAN baskets!
CUE Cupboard is very pleased to offer both students and employees the opportunity to purchase WECAN Baskets. The WECAN Food Basket Society provides families and individuals food security by giving them the opportunity to purchase nutritious food at an affordable price.
You can purchase a full basket, which includes 3 different types of meat, along with an assortment of seasonal fruits and veggies for only $35.00 (there is a 'no pork' option available as well). Or, you can just purchase a basket of fresh fruits and veggies for $15.00!
These baskets are available monthly, and you can pre-order them by emailing Christine Taylor at cuecupboard@concordia.ab.ca
Payments for the November baskets are due on Tuesday, November 1, 2022 (cash only). Orders will be available in Tegler on Thursday, November 17, 2022 from 2:00 pm to 2:30 pm.