Go back to news
Volunteers Needed
Posted on: Feb 28, 2020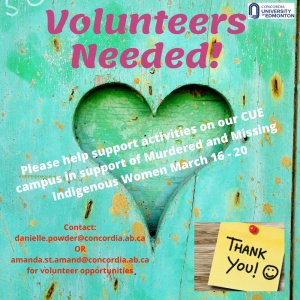 In support of Murdered and Missing Indigenous Women and Girls there will be events happening on our campus where we are in need of some volunteers.
There are available slots for volunteers March 3, 16, 17, 18, 19, 20.
Volunteers can contact Amanda St.Amand or Danielle Powder to sign up, or with any questions or concerns.