Go back to news
Update your Alertus Mobile App
Posted on: Jan 20, 2017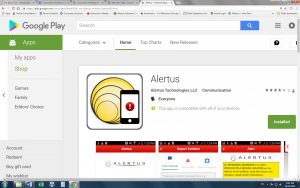 Concordia University of Edmonton uses the Alertus Mobile App to send emergency communications to your Android or Apple iOS mobile device if you have downloaded the app. This service is being upgraded and will require you to update your device's copy of the Alertus App to the latest version before January 28, 2017. If you do not update before January 28, 2017, you may not receive important emergency communications from us on your mobile device.
DEADLINE: Jan 28, 2017
ACTION REQUIRED: Allow your Alertus App to update to the latest version.
IMPACT: You may not receive emergency communications to your mobile device if you do not allow the update.
If you miss the deadline, that is OK. Just update your app, and you will start receiving communications again.
If you haven't downloaded the app and want to please use the following link to do so. http://security.concordia.ab.ca/emergency-notification-system-alertus/