Go back to news
Two Tough Losses for Thunder Men's Bball at NAIT
Posted on: Oct 27, 2014
The Thunder Men faced a tall task this past weekend with 2 games at perennial powerhouse NAIT. Friday night the boys would keep it close until the start of the 3rd quarter where the Ooks made a run to take an almost 20 point lead. The Thunder were up for the challenge though, cutting the NAIT lead to 3 with 2 minutes to go. Unfortunately for the Thunder it was too little, too late and the Ooks hung on for the 83-79 win. Leading the way for the Thunder was Ryan Coleman with 24 points and 13 rebounds. Artez Scharer dropped 16, Nate Wojcicki added 13 and Rob Haack chipped in 11. "We figured things out too late tonight," said Coach Reagan Wood after the loss. "They have a couple of very gifted players who had great nights but there were opportunities for us to take a lead and we just did not make enough plays. I was happy to see us persist against a very tough team and keep fighting until the end."
Game two was a tougher one for the Thunder. NAIT jumped out to a 10 point lead after the first quarter and by the end of the 3rd it was a 19 point hole for the Thunder. Again though, the Thunder found a way to trim the lead in half but the deficit was just too much to overcome and once again they fell to the Ooks 89-74. Ryan Coleman was again solid for the Thunder with 23 points and 14 rebounds. Nate Wojcicki added 13, Artez Scharer 12 with 9 assists and Tommy Soltys was big off the bench with 11 points. "Honestly, this one was a little disappointing," stated Coach Wood. "We adjusted well to some things but we left opportunities for other guys on their team to hurt us and they did. Credit to NAIT for making us work for everything we got. They forced us into some bad shots and we settled for them. We did keep working and despite several negatives there were some positives we can build on heading into next week."
This coming week the Thunder are in action on Thursday and Saturday against the Vikings from Augustana. Both games go at 8 pm. Thursday will be out in Camrose with the rematch going at the RKAC on Saturday.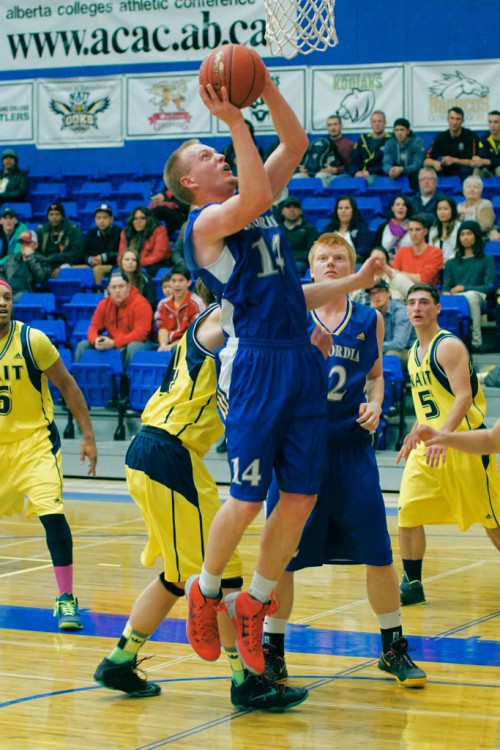 Photo Courtesy of John McIntosh