Go back to news
Thunder XC Women's Team Heading to the CCAA National Championships
Posted on: Oct 31, 2016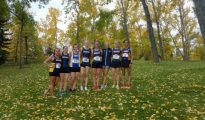 For the 3rd straight year, the Thunder Cross Country Running program will be sending a team to the CCAA National Championships after the women's 3rd place finish in Grande Prairie on Saturday. Second year runner Elise Nawrocki led the way with a solid 5th place performance earning first team "All Conference" honours. After Nawrocki, the women packed in very well with Baylee Frissell finishing in 12th place, rookie Haley Dunwoodie was 13th, Co-captain Rachael Smillie was 14th, Bailey Troccoli-Hughes was 17th, Ana Zulic was 20th and Co-captain Shelby Edgar finished in 29th spot. "For us to have 5 women in the Top 17 shows how good our girls are right now," stated Head Coach Matt Norminton. "They have worked really hard this season and the improvement has been fantastic." Dunwoodie ran a new personal best and Zulic ran her fastest time of the season on the tough Wapiti Trails course. The Thunder ladies finished with 44 points, losing only to Red Deer and Lethbridge. "If the ladies can pack in like that at Nationals, we'll do really well," said Assistant Coach Kristen Hansen.
The Thunder men finished in 6th place with rookie Keith Spruyt finishing in 16th place in a new personal best time. Hockey player (turning runner) Connor Reinson was 25th, Captain Ian Lee was 33rd, rookie Mo Abdullahi was 37th, Michael Quick was 38th, rookie Darien Khan was 43rd and another rookie, Brad Agnew was 46th. "We knew that this was going to be a rebuild year after we lost all 7 runners from last year's ACAC XC team," said Norminton. "Unfortunately Ian got sick the day before the race and Mike had a tough one. But it was great to see Keith, Darien and Brad all run new personal bests and Connor and Mo both improved their times on the same course from 4 weeks ago."
The men will now rest up before getting ready for the Indoor Track season. The ladies will head out to Sault Ste. Marie in 2 weeks to take part in the 2016 CCAA National Championships. They finished in 4th place last year at the National Championships, missing out on the podium by just 2 points. "Three quarters of our scoring team yesterday were either just getting over being sick or were actually sick," said Norminton. "Both Baylee and Rachael have the potential to finish much higher up at Nationals relative to the other ACAC teams than they did yesterday. If Haley can tag along with those 2, we could really surprise a few teams in 2 weeks."