Go back to news
Thunder Women's Volleyball Fight Hard but Lose to Ooks
Posted on: Oct 24, 2016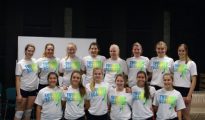 The Ladies Volleyball team played two tough matches against the NAIT Ooks over the weekend and although they lost both matches, they continue to take steps in the right direction. On Friday, the ladies came out in the first set and controlled the play and won 25-23. In the remaining three sets, the ladies struggled with mental awareness and lost all three by scores of 15-25, 24-26 and 23-25. Shandelle Meyer was selected the Thunder of the Match.
In Saturday's match at home, the team once again came out strong and pressured the Ooks into making errors but they lost their focus in a key stretch of the set and lost 23-25. The ladies regrouped in the second set and played some good volleyball winning it in extra points, 27-25. After the second set, the mental toughness was not there and they lost 21-25 and 16-25 to lose the match. Megan Bieraugle was chosen as the Player of the Match.
Coach Turner's comments from the weekend – "Overall we played well but we still have the tendency to lose our mental awareness on the court and we are giving up too many easy points. We need to understand that to be successful in this league we can't give up runs of 3 or more points in each set. We will continue to address our mental toughness in practice and work towards showing that in matches on the weekend."
The weekend was also an opportunity for both the basketball and volleyball teams to show their support in the fight against cancer and all teams wore the same shirts during warmups to THUNDER OUT CANCER!!