Go back to news
Thunder Women's Soccer Take Bronze Medal at ACAC Championship
Posted on: Oct 31, 2016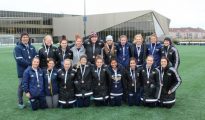 The objective: win the first two games at the ACAC Women's Soccer Championship this past weekend and 'voila', a trip to Montreal for the CCAA Nationals would be the prize. In Concordia's path were two technology schools: SAIT and NAIT. The opening game Friday vs SAIT fell on a cool, wet Autumn afternoon. The Thunder displayed an incredible display of ball possession right from the opening whistle which led to numerous opportunities early in the match and an early goal too, by sophomore Bryanna Niehaus. By all accounts the Thunder ladies should have scored 2 or 3 within the first twenty minutes but were unable to convert. Nonetheless, their defense held firm and they finished the match with a 1-0 victory.
Saturday afternoon saw the Thunder in the semi-finals against NAIT; the start of another Fall classic for the two programs. The winner would go to the finals and also to Montreal for Nationals. It was an intense, bitter battle filled with scoring opportunities, numerous fouls and what turned out to be the game winning goal early in the first half. Unfortunately for the Thunder ladies, the goal was scored by NAIT and it eliminated Concordia from National contention.
On Sunday, the Thunder played for the Bronze Medal taking on the #1 seed from the South, Medicine Hat. The Championship host Thunder scored two goals (Shyanne Walton and Jaida Stasiuk) in the second half to secure a 2-0 victory and a Bronze Medal finish at the 2016 ACAC Women's Soccer Championship. Congratulations ladies!