Go back to news
Thunder Women Trending in Soccer Weekend
Posted on: Sep 26, 2016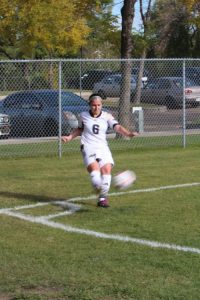 The following phrase, "It's not over when you lose, it's over when you quit," (author unknown) resonated loudly to the Women's Soccer program this past week following the unusual debacle of losses in Grande Prairie last weekend.  The Thunder ladies committed to a week of training, classroom sessions and the infamous player-led meeting.  "It (losing) is all part of the game," said Coach Imbrogno.  "It's how you respond when you fall.  We coaches trust this group, we believe in this group and we believe we are a team that will continue to elevate our game as the season progresses and peak come provincial weekend."  If the character of this group was tested after Grande Prairie last week, then it passed with Honours with Distinction in matches this past Saturday against University of Alberta Augustana in Camrose and Sunday versus the visiting Keyano Huskies of Fort McMurray.
In Saturday's game in Camrose, the Thunder started the game with composure, maintained ball possession and created scoring chances throughout the game.  An early goal by first year player Paige Martin, got Concordia on the board at the fifth minute mark.  Jaida Stasiuk continued her goal scoring streak with two goals and earned 'Player of the Game'.  "Stasiuk's movement off the ball was the best I've seen from her over the last two years.  Her runs into areas provided our central players options to play direct balls into scoring areas," said Imbrogno. "It was as close to a complete game by the starting group.  We played intelligent football today.  The movement from the back line and the endless supporting runs from our midfielders created numerous opportunities."  Concordia finished the game with a 5-1 victory.  Other goal scorers were Karey Lubkey and Madison Kindzierski, both with their first goals of the season.
The Concordia ladies started Sunday's home match against the Huskies with the same tenacity and composure as the day prior and got off to another fast start.  Jill Sander got the group going with a darting run down the flank and rattled a shot of the goal post from distance.  "Her work rate as a wide player created numerous chances in the attacking zone," said Imbrogno.  "She was determined today and her efforts were recognized and equaled by her teammates."  Her contributions earned her the 'Player of the Game' honours.  On this day, Concordia's keeper Kathleen Lang earned a clean sheet with no goals against and saw the Thunder Ladies score five unanswered goals by five different players.  Jaida Stasiuk, Kaitlyn Diduck, Gabby Bayne, Laura D'Andrea and Jill Sander all got on the score sheet.
Next up, the Thunder will travel across the river to face the King's Eagles at Kings on Saturday, October 1st.  Game time is 12 noon.