Go back to news
Thunder Men's Volleyball Post Third Win of the Season
Posted on: Jan 23, 2017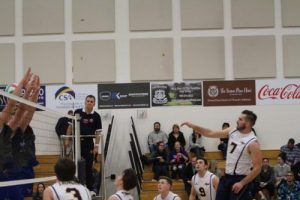 With 8 matches still to go in the 2016-17 ACAC regular season, the Men's Volleyball team have eclipsed their win total from last season, securing their third match victory of the year against the GPRC Wolves. The guys played the first of a two game home stand Saturday night and showed their character, battling and grinding out a 5 set win. A combination of errors and scrappy volleyball made Saturday night a long, dragged-out match but in the end the guys did just enough to scrape out a much needed win (26-24, 23-25, 24-26,25-23 and 13-15). Hunter Scott was named as the Thunder's Player of the Game.
Sunday was more of the same on the court with the Thunder making their fair share of errors but still getting off to a good start nonetheless. "Unfortunately the guys shot themselves in the foot one too many times and we ended up losing a tough match in 4 sets," lamented Head Coach Lucas Jacobson. "Both our Left Sides played extremely well on Sunday and Nic Dove was named our Player of the Game."
The boys will be back hard at work at practice on Monday as they prepare for a tough home and home series with the second place King's Eagles. The home match goes Friday night at the RKAC.