Go back to news
Thunder Men's Volleyball Drop Two to Augustana
Posted on: Nov 14, 2016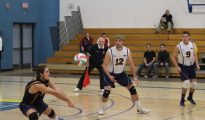 The Concordia Men's Volleyball team had a tough weekend, dropping both matches to a young, talented Augustana team. Friday night the guys came out well, winning the first and third sets. Unfortunately for the Thunder, unforced errors caught up to them and they ended up dropping a hard fought 5 set match in extra points, 16-14. "Captain Connor Reeves' leadership was missed on the court as we were without our fifth year Right Side," stated Head Coach Lucas Jacobson. "The effort was admirable Friday but unfortunately we shot ourselves in the foot one too many times. We came in Friday looking for (the) bounce-back match we really needed to stay in good position in the playoff picture but unfortunately, we were out of gas and continued to make too many errors."
The Thunder dropped a quick decision on Saturday, going down in straight sets to the Vikings. Players of the Game were Ryan Teliske on Friday and Mickey Khan on Saturday.
The Thunder will now look to the challenge of taking on the King's Eagles, who are currently sitting in 2nd place in the ACAC North. The home match goes Friday night at the RKAC.