Go back to news
Thunder Men's Basketball Sweep Wolves, Move to 6-2
Posted on: Nov 7, 2016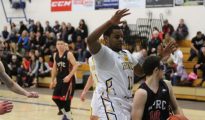 Welcoming the visiting Wolves for a two game set this past weekend at the RKAC, the Thunder were in need of a solid effort to secure two wins. Game one started very well for the home side going up 25-8 after the first but strong 2nd and 3rd quarters from GPRC had the Thunder down 6 heading into the final stanza. Applying pressure, the Thunder were able to tie the game in 3 possessions and retake the lead shortly thereafter, finishing off the Wolves by a final of 90-77. Leaders for the Thunder – Ron Bacon with 24 points, 8 rebounds and 6 blocks, Brett Jakubec with 16 points, 4 rebounds and 8 assists, Ryan McLaren added 15 points with 8 rebounds. Mike Malin and Kwame Kang registered 10 points each to help the Thunder to the win.
Game two would also start well for the Thunder going up 28-15 out of the gate and would never look back closing out the sweep of the Wolves with an 84-69 win. Leaders for the Thunder – Ryan McLaren with 19 points and 7 rebounds, Mike Malin with 17 points and 5 rebounds, Brett Jakubec with a full stat sheet tallying 16 points, 5 rebounds, 8 assists and 4 steals. Ron Bacon also made an impact in every category with 14 points, 9 rebounds, 5 assists and 3 blocks. Bevan Purnell had his best game of the young season adding 8 points and 3 assists.
"Another good weekend with steps in the right direction," stated Coach Reagan Wood. "Not that you want to give up leads at any point but being able to remain calm and find opportunities to battle back and execute under pressure will serve us well as we fight for a playoff spot. It was much like the previous weekend where we had an excellent opportunity to learn from Friday to Saturday."
Next up for the Thunder, the King's University Eagles in a home and home series with the game at the RCAC going Remembrance Day evening at 8 PM.