Go back to news
Thunder Men's Basketball Start 2016-17 with 3 Wins
Posted on: Oct 3, 2016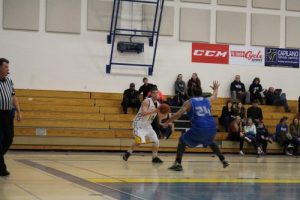 The official preseason for the Thunder Men's Basketball team got underway this past week with 3 games against teams from the ACAC South Division. First Up for the Thunder – the Briercrest Clippers.  In what would prove to be a very exciting game the Thunder found a way to hit several big shots including a 3 at the end of regulation from Ron Bacon and two free throws from Kwame Kang at the end of the first overtime to keep the Thunder alive until they could finally gain some momentum and pull away in the second overtime and finish off the Clippers 95-86. Leaders for the Thunder in this one – Mike Malin with 22 points, 15 rebounds and 5 assists, Ryan McLaren with 16 points and 6 rebounds, Ron Bacon and Brett Jakubec each added 11 points with Kwame Kang chipping in 10 to round out the double digit scorers. "This was a fun way to start the season," remarked Coach Reagan Wood after the thrilling win. "We were forced to play hard and battle every possession by Briercrest who is a much improved team this year.  It was great to see the determination and team-first play from the guys.  We wouldn't have been able to pull this one out without it.  We also want to thank J. Percy Page High School for hosting the game for us.  They did a first class job and helped make it a special night."
After a long night the Thunder would face the Ambrose Lions in an afternoon affair at the Saville Centre.  It was not the prettiest game from either team but the Thunder were able to shoot the 3 at a 50% clip and hold off the Lions 78-61. Leaders for the Thunder – Ron Bacon with 18 points, 8 rebounds and 4 assists, Ryan McLaren notched a double-double with 10 points and 10 rebounds.  Kwame Kang matched his total from the night before registering 10 points.
Game 3 of the weekend pitted the Thunder against the St. Mary's Lightning.  After falling behind by 1 point at the end of the first quarter the Thunder would go on a tear and outscore the Lighting by 51 over the final 3 quarters and win the game by a score of 105-55. Leaders for the Thunder – Ron Bacon with 21 points, 5 rebounds and 3 assists, Brett Jakubec with 18 points and 4 assists, Mike Malin notched 12 to go along with 7 rebounds while Ryan McLaren and Kwame Kang each notched 10.  Kwame also added 6 rebounds and 5 assists. "(I'm) very happy to see the balance we had in all facets of the game today," said Coach Wood. "We will be successful this season if we share the ball and defend well each time up and down the floor.  After a few early miscues we were able to put some great stretches together in this one.  I know we can use this game as a step in the right direction for the kind of team we want to be this year."
Next up for the Thunder is a home and home series with Burman University out of Lacombe on Thursday and Saturday this coming week with the first ever Thunder Alumni Tournament sandwiched in between on Friday.  The Thunder will travel to Lacombe on the Thursday with the rematch at the Ralph King Athletic Centre on Saturday at 8pm.  That will be the final test for the squad before conference play opens on October 13th at home against the Augustana Vikings.