Go back to news
Thunder Men's Basketball Recruit Report 2015-16
Posted on: May 4, 2015
Following a 15-9 regular season, which saw the Thunder finish 2nd in the ACAC North division in 2014-15, Head Coach Reagan Wood is pleased to announce the following additions that will be joining the Concordia University of Edmonton Thunder for the 2015-16 season.
Adam Johnson – 6'5" PF/C – Ballard, WA, USA – Adam completed his second JUCO season for the Shoreline Community College Dolphins in 2014-15 where he was a dominant force in the NWAC. Adam averaged 11.29 ppg along with 9.29 rpg, registering 7 double-doubles on the season. Adam was named a NWAC North Region Second Team All-Star and was the top rebounder at the NWAC All-Star game. Adam's physical presence and high basketball IQ will no doubt see him excel in the ACAC.
Julien McFadden – 6'3" SF/PF – Edmonton, AB – Julien comes to the Thunder by way of transfer after spending his freshman season with the NAIT Ooks. Julien was a standout with the O'Leary Spartans in 2013-14 where he led them to a provincial silver medal. Julien's versatility will be a great asset for the Thunder this season.
Brett Carey – 6'6" PF/C – Edmonton, AB – Brett returns to the Thunder line-up after sitting out last season. Brett has excellent touch and will help bolster a front court in need of size. Brett was a part of the 2013-14 ACAC Silver medal winning squad and is excited to be back in a Thunder uniform.
Euriah Pemberton 6'6" PF/C – Edmonton, AB – Euriah also returns to CUE after sitting out last season. Look for Euriah to be one of the most athletic big men in the ACAC. Euriah's ability to elevate and change shots is a much needed skill for the Thunder's defense. Euriah was a part of the 2013-14 ACAC Silver medal winning squad at CUE.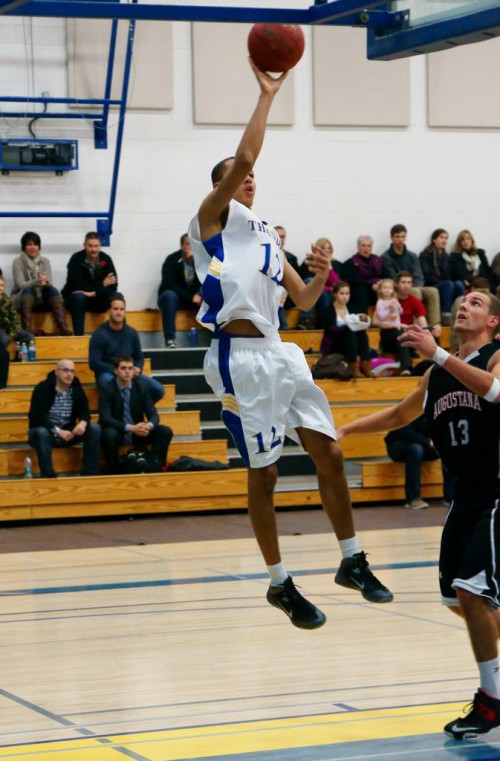 Mike Malin 6'3 SF/PF – Red Deer, AB – Mike joins the Thunder after spending 2 seasons with the Augustana Vikings. Mike is continuing to grow as a basketball player and brings a solid foundation to CUE. Mike has a physical presence and a nice touch that will serve him well with the Thunder in 2015-16.
CUE Thunder 2015-16 Season Outlook
Looking forward to the 2015-16 edition of the CUE Thunder, exciting things are in store. Head Coach Reagan Wood had the following comments about the teams expectations and goals:
"I knew there were some holes we had to address with the team from last year and I feel we've been able to do that. We were one of the smallest teams in the ACAC – our overall rebounding suffered because of it and we gave up a lot of easy points around the basket. I think we'll be able to defend the paint a lot better and control the defensive glass with greater efficiency. I also hope our increase in size leads to more easy baskets for us around the rim as well.
They say the best thing about freshmen is that they become sophomores and having had 6 first year players on the roster last year, I'm excited to have that group back for their second year. I think our incoming class from last season did a great job, playing key roles and now that they have that year of experience along with some increased maturity both mentally and physically they will be even better. I've seen over the years that it is so key to have that solid core of players that play 3-5 years for you. When you get those kind of guys that are committed to developing and working to get better you can have a lot of success.
In 2014-15 we lost one of our key guys in the preseason – Ben Grimsrud – to a torn ACL. He's well on the road to recovery and will be ready for the start of the 2015-16 campaign. Ben was so big for us in 2013-14, especially in the playoffs – losing his presence, versatility and skill set was tough to overcome so I'm very excited at the potential of his return.
I'm really excited with the new players that are coming in as well. While we return a lot of guys, you always need a new face or two to bolster your line up. Adam Johnson from Shoreline CC in Seattle will be a huge impact player. He's big, he's strong, he's smart and has a nice touch all the way out to the 3 and I see him being very successful in the ACAC. Getting Euriah Pemberton and Brett Carey back, both 6'6+ guys that were a part of our 2013-14 ACAC Silver Medal winning team is great. They've both matured and are hungry to get back out there competing. Julien McFadden and Mike Malin coming in as transfers with ACAC experience is always great as they know the league well and are used to the everyday grind that it takes to be successful in our league.
I know that all the other teams across the league are working hard to bolster their rosters and it will be a tough grind every weekend to earn wins. I feel that we have a team that will be in every game and as long as we are committed, will have a great shot at winning a lot of them.