Go back to news
Thunder Men's Basketball Keep Rolling, Move to 14-2
Posted on: Jan 23, 2017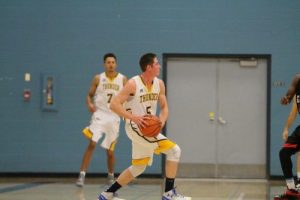 The Thunder Men's Basketball team keeps finding ways to the win column, rattling of their 11th and 12th straight conference wins and improving to 14-2. The Thunder are now in sole possession of first place in the ACAC's North Division. The opponent this past weekend was the Keyano Huskies.  In game one the Thunder led wire-to-wire, downing the Huskies 84-66. However on Day 2 the Thunder would be in tough as the Huskies would respond with a strong start, but hot 3-point shooting from Will Pittman and Ryan McLaren vaulted the home side back on top before the half and they would not relinquish that lead, holding off Keyano by a final score of 84-74. Leaders in game one – Ryan McLaren with 24 points and 10 rebounds, Mike Malin stuffed the stat sheet with 14 points, 6 rebounds, 3 assists and 5 steals.  Brett Jakubec also had a well-rounded game with 13 points, 7 rebounds and 5 assists.
In game two on Saturday afternoon, Ryan McLaren again led the way with back-to-back double-doubles notching 23 points and 10 rebounds. Will Pittman had a career high 17 points off the bench while Brett Jakubec rounded out the double figure scorers with 11 points and 5 rebounds. "We shared the ball well." remarked Coach Reagan Wood after the pair of wins. "We had 38 assists over the two games this weekend which is great.  That's a sign that we are playing the way we need to be.  We still have many areas to improve on but as long as we remain dedicated to team basketball, not only on offense but at the defensive end as well, we can be competitive with anyone."
Next up for the Thunder – a home and home with east Edmonton rivals King's who always battle the Thunder hard.  Both 8pm starts, the first game will go Friday at King's with the rematch Saturday back at the RKAC.