Go back to news
Thunder Men's Basketball Drop Two to Ooks
Posted on: Oct 24, 2016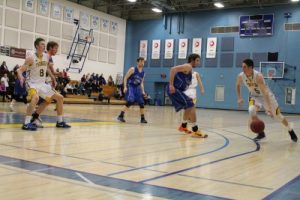 Facing the defending ACAC and CCAA Champions this past weekend the Thunder battled hard but were unable to come out on top against the NAIT Ooks. In game one the Thunder would spot the Ooks a 15 point lead but battle back to cut the deficit to 2 in the second quarter. However the guys were unable to push past that mark and ended up losing the contest by a final score of 71-65. Leaders for the Thunder – Mike Malin with 17 points and 5 rebounds, Brett Jakubec with 17 points, 7 rebounds and 6 assists, Ryan McLaren with 16 points and 7 rebounds with Ron Bacon adding 11 points and 7 rebounds.
The rematch back at NAIT would again see the Thunder allow the Ooks to go up 10 but were able to regain the advantage in the 2nd and 3rd quarter. However, clutch play from the home side would again hold off the Thunder by a final tally of 81-75. Leaders for the Thunder – Brett Jakubec with 17 points, Ryan McLaren with 14 points and 9 rebounds, Mike Malin with 14 points and 5 rebounds with Ron Bacon and Paul Smith-Profit both chipping in with 9 apiece. "NAIT showed why they have a championship pedigree.  We played well for long stretches this weekend but they made several big shots late in shot clocks and quarters. They earned more free throws and made them time after time.  We left some points out on the floor that we need to capitalize on in order to beat a great team like NAIT." said Coach Reagan Wood after the weekend.
Up next for the Thunder, the first road trip of the season up to Ft. McMurray to face the Keyano Huskies for two.