Go back to news
Thunder Hockey Get Back in the Win Column
Posted on: Nov 21, 2016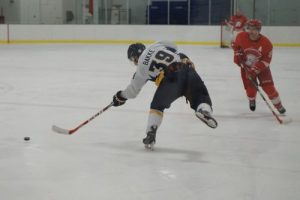 This weekend the Thunder Hockey team played a pair of key games against the Red Deer College Kings. On Friday night the Thunder travelled down the QE 2 to face the Kings in Penhold. The second period proved to be problematic for the Thunder as they gave up a pair of goals on back-to-back shifts to trail 4 to 1 heading into the third. Despite a strong effort, the Thunder could not cut into the lead and eventually dropped the game 5 to 2. Rookies Chance Thomas and Ian McLellan provided the goals for the Thunder.
On Saturday the Thunder returned home to face the Kings at Clareview Arena. Nothing was done to solve the stalemate in the first two periods and going into the third period the teams were deadlocked in a scoreless tie. Midway through the third, the Thunder broke the tie from an unlikely source; 3rd year Defenseman Nick Tupper scored his first career goal on a bullet from the point. A few minutes later, Ian McLellan added an insurance goal and the Thunder were able to hold on for a 2 to 0 win. Tanner McCorriston was excellent in the win and recorded the first shutout for the Thunder in over 4 years. "Our team played well tonight and we consistently went to the hard areas to retrieve pucks and create scoring opportunities," stated Associate Coach Matt Parks.  "When you get goaltending like Tanner has been giving us all season, it was nice to be able to finish off the shutout for him."
Going into the final weekend of the semester against SAIT, the Thunder are tied for the final playoff spot in the ACAC standings. "Despite some bumps in the road, this young team is maturing and learning how to maintain the consistency required to have success in the highly competitive ACAC hockey league," opined Head Coach Dan Glegloff.
The Thunder's final home game of the semester goes Saturday night at 8:15 PM at the Clareview Arena.