Go back to news
Thunder Hockey Fall to Top Ranked Augustana
Posted on: Oct 11, 2016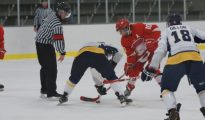 This weekend the Thunder faced a tough match up against the Augustana Vikings. Friday night at home the Thunder stumbled out of the gates and spotted the Vikings a 3 to 0 lead after the first period. The Thunder fought hard and played better in the remaining 40 minutes but were did in by some penalties and ended up dropping a 5 to 2 result.
Saturday night the Thunder traveled to Camrose and came out fast against the Vikings. Ian McLellan scored just 35 seconds into the game but the Vikings came back with a goal of their own on a late power play and the teams ended the first tied at 1. In the second frame, the Vikings took the lead only to see the Thunder storm back with a late goal by rookie Jordan Busch to set up a furious 3rd period. The Thunder missed a few key chances to score and a lucky deflection led to a late game winner for the Vikings. Three to two was the final.
Despite the losses the young Thunder team has played well and look forward to trying to get back in the win column next weekend against Portage College. The home tilt goes Friday night at 8:15 PM at Clareview.